Small Hydropower Plant Verkhnebalkarskaya in Russia Put into Commercial Operation
On June 25, 2020, all three units of the Russian small hydropower plant Verkhnebalkarskaya were successfully commissioned, connected and synchronized with the energy grid of Russia.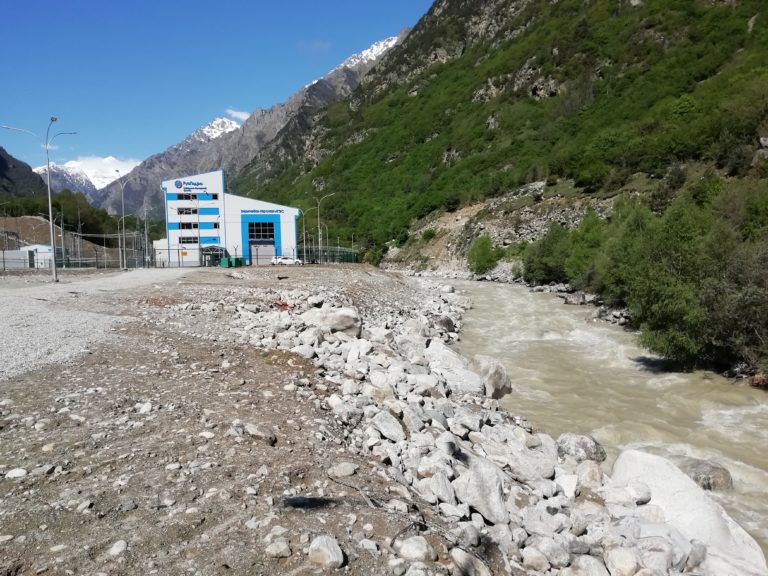 Verkhnebalkarskaya is one of five small hydropower plants built by PAO RusHydro on the territory of the North Caucasian Federal District in Russia. (Image source: Voith GmbH & Co. KGaA)
The commissioning took place within 72 hours, although it had to be carried out by remote assistance due to travel restrictions caused by the COVID-19 pandemic. The technology group Voith delivered the main equipment for the hydropower plant.
The scope of supply of Voith Hydro in Balakovo, Russia, included three horizontal Francis spiral turbines with a pre-turbine gate valve, three synchronous generators with excitation system, three sets of automatic control systems along with thermal and vibration control, installation supervision and the commissioning of the three identical Francis units. The engineering and supply of the horizontal Francis spiral turbines, with a unit capacity of 3.34 MW each, was carried out by Voith Hydro in St. Georgen/Stfd., Austria.
Great care was taken to preserve the environment. The design provides a completely oil-free operation of the turbines, using electrical drives for the wicket gate actuation and the turbine inlet valves as well as water-lubricated guide bearings to protect the environment and reduce the need for maintenance.
About the Verkhnebalkarskaya small hydropower plant
The Verkhnebalkarskaya small hydropower plant is located at the mountain river Cherek Balkarskiy at an altitude of more than 1000 m in Kabardino-Balkaria, a southern region in Russia. The hydropower plant has a rated capacity of 10 MW and is owned by PAO RusHydro, the largest hydropower plant operator in Russia. With an average annual electricity generation of 60 million kWh, the hydropower plant will contribute to the energy deficit reduction in Russia.
Significant hydropower potential in Russia
The economic potential of hydropower resources in the world's largest country is around 850 TWh/year. So far, only about one-fifth of this potential has been developed. Voith has a long history in Russia; the company delivered the first hydropower turbine to the country in 1898 and supplied electromechanical hydropower equipment to the Soviet Union in the following decades. To strengthen its local footprint, Voith Hydro opened a new production facility in Balakovo, Russia, in June 2019. From there, Voith serves customers in Russia and the CIS-countries.