Ruhrpumpen Delivers API 674 Pumps for Gas Dehydration Package in Algeria
Ruhrpumpen has recently delivered two API 674 3rd edition Reciprocating Plunger Pumps to Maloney Metalcraft for a Gas Dehydration Package to be deployed in the Timimoun Field Development Project, Algeria.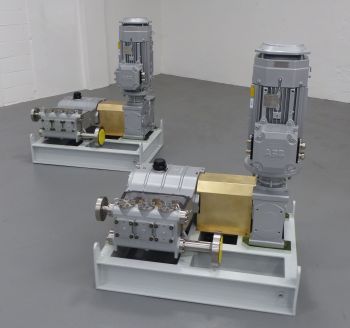 Ruhrpumpen delivers API 674 pumps for Gas Dehydration Package in Algeria (Image: Ruhrpumpen)
Algeria is the world s largest natural gas producing country and the Timimoun Field Development Project is located 800km southwest of the capital, Algiers. The project is a JV between Sonatrach, Total, and Cepsa. This non-conventional gas project will ultimately include 40 wells, a gas gathering system, central gas processing facilities, and a connection to the export pipeline and is expected to produce 1.6 billion cubic meters per year of natural gas over eight years.
Maloney Metalcraft, under contract to Samsung, designed and manufactured the Gas Dehydration Package for the Timimoun Field Development Project. The Gas Dehydration Package prevents hydrate formation during the production process, reducing corrosion problems and protecting downstream equipment. The pumps are used to force glycol under high pressure into the contactor where the water vapour is extracted from the gas.
Maloney Metalcraft selected Ruhrpumpen following a competitive tender and in part due to Ruhrpumpen's technical support and responsiveness. The pumps had to be contained within a compact footprint to fit within the Gas Dehydration Package and so Ruhrpumpen selected its reliable RDP 70 Series API 674 3rd edition triplex pumps that have been proven in numerous gas dehydration applications and then packaged the pumps with a vertical gearbox arrangement to fit within the available space.
Ruhrpumpen worked closely with Maloney Metalcraft during the design and manufacture of the pumps ensuring they were delivered on time to a tight 20 week deadline ready for commissioning into the Gas Dehydration Package in the UK before it is despatched to Algeria.
Simon Watteau, Managing Director of the Ruhrpumpen Reciprocating Plunger Pumps business commented: "We are delighted to have been working with Maloney Metalcraft on this prestigious project. Our engineering team had to pay close attention to every detail of the design, liaising closely with Maloney Metalcraft throughout. The good working relationship and attention to detail enabled us to successfully conclude an on-time delivery, which was important to ensure the Gas Dehydration Package could be commissioned to plan. We look forwards to working with Maloney Metalcraft on future projects."