Ruhrpumpen Completes API 674 Pump Order for Synthetic Crude Demonstration Plant in Texas, USA
Ruhrpumpen has recently completed an order for an API 674 3rd edition Reciprocating Plunger Pump from INFRA Technology for use in a plant demonstrating the production of synthetic crude from natural gas in Wharton, close to Houston, Texas, USA.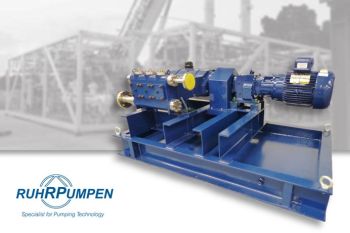 Ruhrpumpen
The plant will serve as a demonstration of INFRA Technology's solution that will make previously uneconomic stranded gas fields viable and profitable. The company's GTL (Gas to Liquids) technology has a number of applications that will enable operators to unlock the economic potential of remote, offshore and shale gas reservoirs as well as bio-waste resources and coal. Also, it can solve the problem of gas flaring and venting, equivalent to 20% of the US or 30% of the European Union's gas consumption per year, by producing synthetic crude from this natural gas, reducing carbon dioxide and other emissions that are harmful to the environment in the process.
The RDP-70 Reciprocating Plunger Pump will be used for boosting water pressure in the cooling loop. A particular feature of the pump is its compact footprint to fit within the 'Plug and Play' concept of the modules of INFRA's demonstration GTL plant. Ruhrpumpen was selected by INFRA Technology for this and seven other centrifugal pumps in the bidding process.
Simon Watteau, Managing Director of the Ruhrpumpen Reciprocating Plunger Pumps business commented: "We are delighted to have received this order from INFRA Technology and have delivered into a project that is leading the way to reduce emissions whilst producing high value-added synthetic fuel. We look forward to supporting Infra Technology in the future as the process is up scaled".