Rugged Real-Time Operating System for Industrial Computers
Siemens Automation and Drives (A&D) have added new functions and improved performance to their RMOS3 real-time operating system.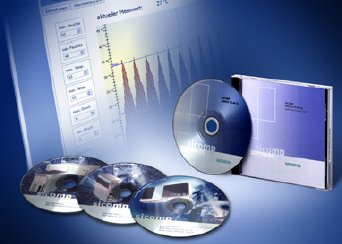 The new version V3.40 offers greater system availability and is even more fit for industrial use with improved user-friendliness and servicing. The graphics kit RMOS3-GraphX V1.0 for windows-based visualization solutions in real-time and multitasking environments is also new. With the help of the widely-spread development tools GNU, Eclipse and QT Designer, the user can easily and comfortably create his own real-time applications for RMOS3.
Siemens use the real-time operating system RMOS3 for their industrial PC families Sicomp industrial microcomputers and Simatic PCs. RMOS3 is suitable for measuring as well as open- and closed-loop control tasks with reaction times in the low microsecond range. Its main areas of application include embedded automation systems as well as standard and special-purpose mechanical engineering. More safety and security for the running of user applications generated with the development tools from RMOS3 GNU is provided by new memory protection functionality.
Using password access with "Privilege Level" mechanisms, the applications are now started on their own execution level, and memory access managed through the operating system. Operating system code, data and stacks are thus protected from unauthorized access through user programs. This feature guarantees safe and secure running of the operating system. "Paging" mechanisms offer additional protection for the coded areas of the applications, as the new stack monitoring mechanism detects when the valid stack area has been left without authorization – thus avoiding time-consuming troubleshooting.
The expanded driver for hard disk operation in UDMA (Ultra-Direct Memory Access) mode makes the system more suitable for industrial use and provides faster data access. APIC (Advanced Programmable Interrupt Controller) mode is now also supported for ultra-short reaction times of PCI/CPCI modules in interrupt mode. For users and service personnel, the expanded configurable RMOS3 nucleus offers greater comfort and shorter commissioning times for Simatic PC and Sicomp IMC.
Further improvements include 64-kilobit data types with formatted input/output, a time-stamp function with nanosecond accuracy as well as expanded programs for evaluating and controlling operating system resources such as memory allocation and integrity, system utilization or system console bypassing.
With the new graphics kit RMOS3-GraphX V1.0, users employ C++ to create windowsbased graphic user interfaces for comfortable operation and monitoring of real-time automation solutions. The familiar operating and display elements from Windows and Linux can be used, such as buttons, toolbars, scroll bars, selection lists, icons and freely resizable and movable windows.
The graphics kits for RMOS3 uses the QT Designer by Trolltech with the same API (Application Programming Interface) used for Windows, Unix or Linux applications. Graphical interfaces are made even easier with the RMOS3- GraphX C++ project type plug-in for Eclipse with extensive function libraries from prefabricated operating and display elements, text browsers, tables and menus. The screen resolution and depth of color are easily configurable. The system is operated via USB mouse and keyboard.