Rovatti Pompe Provides Pumps for a Primary Water Supply
Rovatti Pompe has recently completed a significant supply of several pumps for a primary irrigation and water supply system in Angola.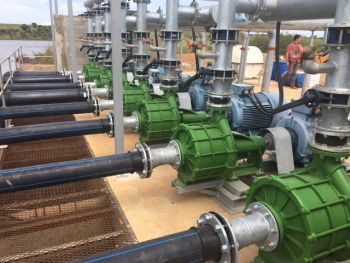 Rovatti
The "Fazenda"" is an agro-industrial project already considered by different personalities a model that should be replicated across the country in many other contexts. The project combines the production of cereals and the management of livestock and poultry on a large territorial area.
Having recently visited the plant, the Angola Finance Minister was visibly pleased and publicly declared that this is an important and well-designed project. Rovatti Pompe has provided several pumping units for the water supply system of the "Fazenda" drawing water both from a reservoir and from a river. in particular:
12 electric puming units consisting of high pressure horizontal multistage pumps (S4K150 series) on basement coupled to 132 kW (4-poles, 50Hz) electric motors. Each units provides performance with 240 m3/h water flow and 12 bar (120 m head).
8 electric pumping units consisting of 16" vertical lineshaft pumps (16V series) equipped with 8" discharge base coupled to 90 kW (4-poles, 50Hz) electric motors. Each units provides performance with 500 m3/h water flow and 4 bar (40 m head).
The "Fazenda" decided to adopt products provided by the Italian Rovatti Pompe in order to make a quantum leap in terms of performance, trouble-free operation and long-time safety working conditions.