Rovatti Pompe Announced Launch of New Website
Rovatti Pompe announced the launch of a new website, designed to better meet its customers needs: more dynamic, user friendly and with a greater quantity of contents and information. A new concept to better assist your selection of products and documentation is realized.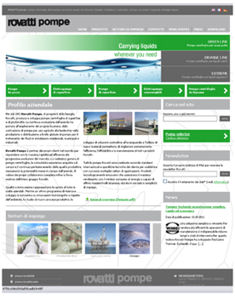 New Website (Image: Rovatti Pompe)
Located at www.rovatti.it, the site has been completely revised both in graphics and structure, facilitating use and navigation of the web source.
Innovations:
Directly from the homepage you can easily reach all necessary information about the wide range of Rovatti products both for clean water, and waste water and aggressive fluids.
The different searching methods allow you to quickly and efficiently find general product information or technical documentation.
The new "press area" shows most of the press releases that the company regulary distributes to international trade publications.
A renewed download area allows you to download a huge amount of documentation, drawings, contents and other useful material.
The more dynamic "news area" keeps you constantly updated about the Rovatti production innovations and Corporate activities.
The direct link to the "online pump selector" allows you to use the innovative online software to efficiently and quickly define the pumps you're looking for.