Rotordynamic Analysis for a Wide Range of OEM and End-User Applications
Bearings Plus, a provider of custom technology upgrades for engineered fluid film bearings and seals, and its parent company, Waukesha Bearings, a designer and manufacturer of fluid film bearings, announce new literature detailing their comprehensive rotordynamic analysis capabilities for OEMs and end users that are seeking to improve the reliability, efficiency and service life of their rotating equipment.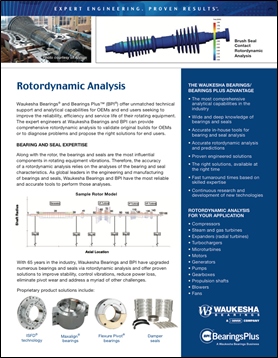 New literature detailing the company s comprehensive rotordynamic analysis capabilities for OEMs and end users (Image: Waukesha Bearings)
Rotordynamic analysis is designed to validate original builds for OEMs or to diagnose problems and propose the correct solutions for end users.
Upon receipt of the relevant rotor and coupling information from the OEM or end user, the engineers at Waukesha Bearings and Bearings Plus build a rotor model and analyze the bearings and seals using proprietary codes. The customer is then presented with a comprehensive report of the findings depending on the type and scope of analysis performed, typically either lateral rotordynamic analysis or torsional rotordynamic analysis.
Waukesha Bearings and Bearings Plus are able to perform rotordynamic analysis for a wide array of rotating equipment, including compressors, steam and gas turbines, expanders (radial turbines), turbochargers, microturbines, motors, generators, pumps, gearboxes, propulsion shafts, blowers and fans.