Rotary Vane Air Pumps: Compact, Pulsation free … and Now Quiet
Traditionally rotary vane air pumps are more compact and pulsation free in comparison to alternative technologies. Through innovative sound reduction techniques Rietschle Thomas can now add "quiet" to this list of positive features.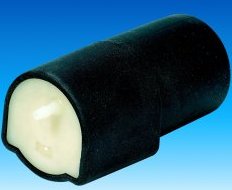 Rietschle Thomas
The G 09-LC offers a free flow of 9 l/min and +/- 350 mbar pressure or vacuum performance with a body size of only 40 x 40 x 90 mm. With a new EPDM sound reduction jacket the noise level of this pump has been reduced to an impressive 44 dB(A). At this level 16 noise reduced pumps run quieter than a single pump without noise reduction.
The G 09-LC is suitable for a variety of applications, but most notably for lumbar support in seat comfort systems for the automotive, aircraft, and furniture markets. Here the pumps fully utilise the advantages of rotary vane technology, namely:
compact – saving valuable space
high flow – providing fast response time
pulsation free – avoiding sound generation inside the air bladders
reversible – allowing active deflation of air bladders
…and now also quiet!