RL-3 Impeller Reduces Expensive Maintenance Costs and Downtime
The new Chemineer RL-3 impeller is designed to prevent fibrous material build-up on the rotating impeller of agitators.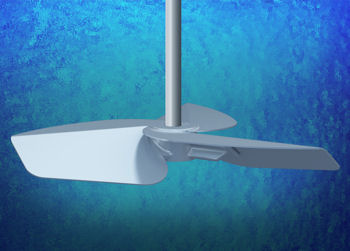 Chemineer RL-3 impeller
In blending and solids suspension applications where the fluid contains fibrous material, typically found in the wastewater treatment industry, the resulting build up on the agitator's impeller can deteriorate performance, increase energy costs and even damage the gearbox bearings and gears causing costly repair. The Chemineer RL-3 Ragless Impeller prevents build up to eliminate maintenance costs and downtime, increase performance and extend the service life of the agitator.
Designed with a strong central hub and sturdy blades, the RL-3 impeller is capable of handling the loads related to material and flow impingement to ensure reliable operation and long service life. The high axial flow RL-3 impeller provides superior mixing performance in blending and solids suspension applications.
The Chemineer RL-3 impeller:
Easily retrofits to existing agitators
Provides safe and reliable operation
Offers application versatility with a wide range of sizes and materials
Is supported through Chemineer Express for sizing assistance as needed
Chemineer impeller designs are the result of over six decades of research and applied application experience, resulting in the broadest range of durable and efficient impeller options for its agitators. Chemineer's mixing expertise includes high flow, low shear liquid-liquid/solids blending, gas dispersion, high shear blending and viscous mixing.