Richter Introduces Increased Safety Level for MNK
Transferring highly corrosive and dangerous fluids requires reliable solutions to warrant an absolute tightness of pumps against atmosphere. Richter further improved the hermetically sealed PFA lined magnetic drive pump MNK by means of the new Safeseal secondary seal technology.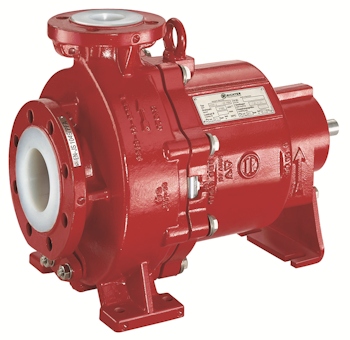 Safeseal (Image: Richter Chemie-Technik)
In the very rare event of cracking of the can, the new secondary seal Safeseal will provide an additional layer of protection and will reduce the potential leakage rate towards the atmosphere to 1/1000 compared to the conventional technology.
Core component of Safeseal is a new dynamic 'lip seal' from modified PTFE. This highly chemically resistant radial seal has been implemented into the MNK series and is available for all sizes starting from 25-25-125 and has already proven itself in practice.
This development did not go unnoticed by plant operators, so a field kit to retrofit this safety feature to existing MNK pumps has become available, too.
The secondary seal Safeseal is approved to pressure rating PN 16, nmax = 3500 min-1 and for temperature class T4 according to ATEX Directive 94/9/EC.