Rheinhütte Pumpen to Deliver 85 Pumps for Fertiliser Plant in Saudi Arabia
The Umm Wual phosphate project in northern Saudi Arabia, concerned with the conveyance of the country's rich deposits of phosphates, is currently being implemented on behalf of Ma'aden (Saudi Arabian Mining Company).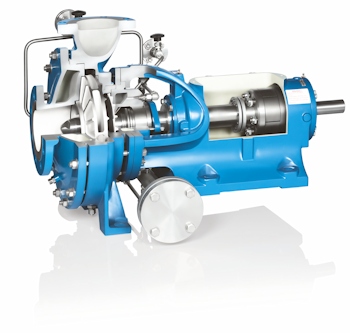 Metal horizontal centrifugal pump of type RCE (Image:Friatec AG Division Rheinhütte Pumpen)
The deposits will, among other things, be processed to produce NPK and DAP fertilisers. To this end, Ma'aden has commissioned the construction of a new plant for the production of fertilisers at the Waad Al-Shamal phosphate industrial complex. The plant will be designed and built by the Spanish industrial plant manufacturer Intecsa Ingenieria Industrial SA. Ma'aden Phosphates Company, one of the largest fertiliser producers in the world, will act as plant operator.
Up to Spring 2015, Friatec AG - Division Rheinhütte Pumpen will supply a total of 85 complete pump units for this plant. The total value of the contract exceeds 4 million euros. This is the largest single order in the history of the company. The heavy duty horizontal and vertical process pumps, which will be used to convey NPK and DAP fertilisers, are made from high-quality, duplex stainless steel, which meet the special requirements concerning corrosive media.
In 2008, Division Rheinhütte Pumpen supplied Ma'aden with 68 pumps for the first stage of development of the fertiliser complex. Dr. Jürgen Weinerth, manager at Division Rheinhütte Pumpen, is convinced that the company will make a valuable contribution: "The positive experiences of the fertiliser producer worldwide with Rheinhütte Pumpen were crucial for the awarding of the contract. The pumps delivered in 2008 are still running reliably and without damage. Also, the proximity to the customer played a decisive role in setting up this renewed collaboration, Division Rheinhütte Pumpen is represented with a local sales office in the Middle East."