Rheinhütte Pumpen Delivers 63 Pumps to Sadara Chemical Complex in Saudi Arabia
One of the largest chemical complexes in the world is currently being developed at Jubail Industrial City II in Saudi Arabia as a joint venture between US chemical company Dow and Saudi Aramco, one of the world's leading energy suppliers.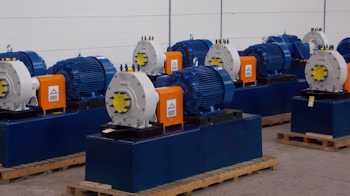 PTFE plastic pump of type RCNKU (Image: Friatec)
Once complete, an annual output of more than three million tonnes of chemical products and plastics from Sadara Chemical Company (Sadara) is anticipated.
Up to February 2014, FRIATEC AG - Division Rheinhütte Pumpen (based in Wiesbaden, Germany) will supply a total of 63 pumps of various types, which will mainly be used for the production of basic chemicals. The realisation of the extensive, project-specific requirements represents a particular challenge concerning the technical aspects of the design of the pumps.
The total order value is in excess of EUR 2.8 million.