Reverse Engineering Updated
Delcam has introduced a new version of its CopyCAD reverse engineering software that offers faster and more accurate alignment of multiple scans, together with new curve creation and editing tools for easier surfacing, and improvements to its abilities to develop horizon lines and to fill holes in the data.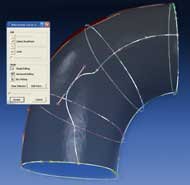 CopyCAD includes new curve sketching and editing tools
The improved alignment options will make it easier to match accurately data collected from a series of scans of different parts of the model. Once the key features within the data have been roughly aligned, the software will simultaneously combine all the data into a single model. This is much faster than the previous method in which data from each scan was added to the model progressively. It also prevents the tolerance stack-up that could occur when combining a large number of scans. The new approach can be used either on scanned points directly or on triangle models.
The new curve creation options make sketching of wireframe geometry much easier, both in cases where the curves will be used as construction geometry and when they will be used to divide the model into regions for rapid surface creation. The additional editing options include greater control over the tangency and parameterisation of the curves. The software can also snap the curve back to the surface of the scan data if the editing option would have lifted it away from the model.
These new options have also contributed to the improved generation of the horizon line of the model. This is essential for users that want to produce tooling designs from scan information, without first surfacing the data. A smooth horizon line can now be generated within CopyCAD, even from models made up from coarse triangle files.
CopyCAD has been able for several releases to fill holes in the model resulting from missing or sparse data. This functionality has now been improved to give closer tangency matching to the scanned data, with no gaps or overlaps between the surface generated and the remainder of the model.
About Delcam
Delcam is one of the world's leading suppliers of advanced product development solutions for manufacturing industry. The company has grown steadily since being founded formally in 1977, after initial development work at Cambridge University. It is now the largest developer of product design and manufacturing software in the UK, with subsidiaries in North America, Europe and Asia.