RCFKu Vortex Pump Made of Frialit Ceramic or Polymer Carbide
The ceramic RCFKu vortex pump from Friatec AG – Division Rheinhütte Pumpen represents a reliable solution when it comes to pumping fluids with high temperatures of an aggressive nature or containing solids.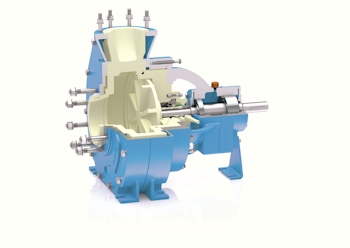 RCFKu vortex pump (Image: Friatec)
Ceramic material Frialit 99.7, an aluminium oxide, ensures that the pump enjoys a long operational life under extreme pumping conditions up to 180 degrees. The material is manufactured by Friatec and is one of the hardest and most wear-resistant materials in ceramic pump production, being fully resistant in hydrochloric acid and ferrous chloride processes. All RCFKu parts in contact with fluids, such as the impeller and volute casing, are made of solid Frialit. All components are fitted in a casing frame and are equipped with the appropriate seal system to suit each application case.
Rheinhütte Pumpen supplies impellers made of polymer carbide for the RCFKu series which are adapted to suit each pumping application. The composite of silicon carbide and vinyl ester resin is a high-tensile material. It is distinguished by its extreme resistance to wear, also at high temperatures and where high levels of solids are contained in the medium.
Efficient, uncompromising pumping of sophisticated fluids
Rheinhütte Pumpen provides a reliable concept in the RCFKu series manufactured with Frialit for sophisticated application areas such as hydrothermal acid treatment. An extremely pure hydrochloric acid and high-quality iron oxide is created during reconditioning of hydrochloric acid from steel pickling agent through oxidation at high temperatures. The process exhibits clear advantages in energy consumption and waste avoidance. The use of pumps made of metallic or PTFE materials is not possible during hydrothermal acid treatment for reasons of corrosion. Special materials such as tantalum are in principle resistant, but not economical. The RCFKu series manufactured with Frialit is ideal for pumping hot, highly concentrated ferrous chloride. The ceramic pump is highly resistant to hot hydrochloric acid and ferrous chloride.
Ceramic pumps RCFKu are also used in the production of aluminium. Hot fluids containing solids are part of the red mud recycling process, and these can be reliably pumped with pump type RCFKu.
RCFKu made of plastic – material variety for greater chemical resistance
The broad variety of materials used by Rheinhütte Pumpen enables the flexible selection of materials to suit individual pumping applications. Pumps made of PFA and PTFE plastics offer practically universal chemical resistance, with PFA pumps in particular being employed in the chemical industry, as they are suitable for pumping fluids which do not contain solids. Plastic pumps manufactured with solid PTFE can be used for pumping applications involving minor levels of solids in the medium. The PE 1000 material is suitable for temperature requirements up to 80 degrees.