QED Environmental Systems Launches TopDrive Piston Pump
Q.E.D. Environmental Systems, Inc., a leading manufacturer of innovative environmental products and subsidiary of Graco Inc., announces its new TopDrive Piston Pump system for landfills and other cleanup applications, featuring a versatile, easily modified drive assembly for pumping in a variety of situations.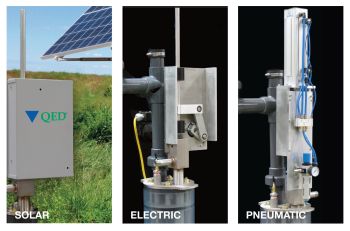 Q.E.D Environmental Systems, Inc.
The TopDrive Piston Pump system is QED's most flexible option for landfill and cleanup applications. Its fully-interchangeable drive assembly allows for easy transitions between hand, solar, electric and top-drive pneumatic pumping without removing the well seal. This feature provides additional flexibility in pumping applications and the ability to pump most fluids under a wide range of operating conditions. The TopDrive Piston Pump can be paired with QED's patented well seals, which provide unsurpassed rigidity and feature customizable port options to meet site-specific needs.
Other thoughtful design elements of the TopDrive Piston Pump include an interchangeable lower pump, which allows an upgrade to a higher flow rate and an adjustable drop assembly with 5 or 10-foot lengths, optimizing pump inlet depth. The pneumatic drive assembly features a linear bearing in addition to the internal pneumatic drive cylinder bearing, which is designed to increase the durability and life span of the pump. Finally, the TopDrive Piston Pump system includes a fully-customizable control panel designed to meet each customer's needs.