PXK Compact Immersion Pumps for Coolant Applications
The latest development in the modular PX program from Spandau Pumps, a division of Willy Vogel (Berlin/Germany), is the PXK. These immersion pumps can be used anywhere ...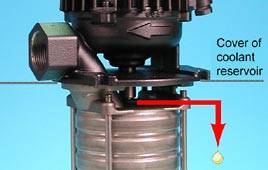 Why even leakage is no problem with the PXK ... (source: Willy Vogel AG, - Spandau Pumps Division, Berlin)
there's not much installation space available. And they can be put to a wide range of uses: machine tools, refrigeration supply and conditioning systems, the optical industry, cooling and temperature-stabilization equipment as well as filtration, washing and cleaning installations.
Key Features
Ideal in tight spaces. Built directly into the reservoir. Since there is no coupling between the motor and pump section, it was possible to keep the motor's dimensions (226 mm) especially small.
Easy to service. The shaft can be easily disconnected, even though there's no coupling.
Sealless design. Where there's no seal, there can't be any wear.
No external leakage, not even in the event of damage. The shaft inlet is located beneath the reservoir's cover. Fluid is routed right back into the reservoir - the surroundings stay clean.
Technical data:
delivery pressures up to 7 bars
delivery rates as high as 185 l/min.
fluid temperatures up to 90 °C