Putzmeister Presents Largest Piston Pump In High-pressure Version
At Bauma 2013 in April in Munich Putzmeister Solid Pumps GmbH will showcase its largest double piston pump KOS 25200. There is a high demand for this high-performance machine primarily in mining and in the area of land reclamation.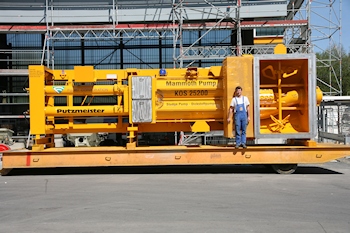 Largest double piston pump KOS 25200 (Image: Putzmeister)
Here the requirements with regard to conveying pressure are increasing because viscous material has to be conveyed over longer distances.
The hydraulic pump for dense material comprises three elements: the KOS pump unit, the hydraulic drive unit and the electric cabinet with the operating panel. It works without valves and is equipped with a "S-transfer tube", which connects the respective delivery cylinder to the delivery line. Its special design enables a nearly constantly free passage for the material to be conveyed thus ensuring linear conveying. The S-transfer tube system has proven itself countless times in the conveying of concrete, the removal of excavated minerals in tunnels, ash transport in coal power stations, as well as in the industrial area when pumping dewatered sludge and hazardous waste. The design of the S-tube of the KOS pump is particularly well suited to conveying highly viscous sludge and materials with a high coarse matter content.
The KOS 25200 boasts a simple design and has an extremely low number of wear parts, which only have to be replaced a few times a year. The replacement is quick and simple. The pump is very robust, needs very low maintenance and runs with low operating costs. Customers all over the world appreciate its efficient working principle, which is designed for 24-hour operation. The hard chromiumplated delivery cylinder and automatic piston lubrication with every stroke ensure a long service life.
The KOS 25200 is also available in a high-pressure version from the start of 2013. The components of the newly developed high-pressure pump are essentially more robust. With the KOS 25200 HP (High Pressure) plant operators can pump up to 400 m³/h at a maximum pressure of 100 bar. The already existing KOS 25200 with the lower discharge pressure manages 400-500 m³/h at a maximum conveying pressure of 30 bar. Higher conveying pressures are becoming more and more important because the materials to be conveyed may be more viscous and have to be pumped over a larger distance. Concentrated thick matter with a solid content of 70 to 80 percent can thus be conveyed.