Putzmeister Offers Perspectives for a Digital Future
Putzmeister will be giving the digital future a new, friendly face. Transparency through networking, efficiency and safety play the key roles. Thanks to digital support, intuitive and precise operation gives users a new working experience – the motto: just work!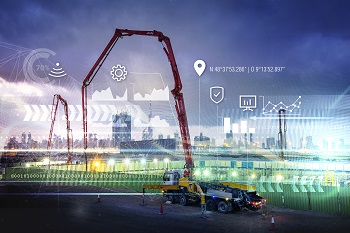 Putzmeister concrete pumps 4.0: simply ingenious, ingeniously simple (Image: Putzmeister)
Industry 4.0 offers fantastic opportunities to work more economically, more efficiently and more safely. It s not always easy for a company to enter the networked world and seize the opportunities on offer. At bauma, the German-based construction machine manufacturer will show solutions, such as the machine cockpit which promises, through connectivity – reliable networking – less downtime, higher productivity and, thanks to real-time information and an overview of all relevant operating figures, more safety and efficiency.
"We want our customers to experience digitalisation as a gain. No matter how complex our developments in this sector are, they remain simple to use. Ultimately, it s purely about giving them the means to keep control and an overview at all times and to work as efficiently as possible with our machines", emphasises Sebastian Fuhrich, Director Innovation Factory.
Ergonic 2.0 control – Intelligence in the interest of perfect functionality
Ergonic is the control centre that watches over all functions of pumps, mixers, placing booms and support. The user is not normally aware of this complexity, since intuitive operation gives the sense that the machine is operating (almost) autonomously.
The efficient control ensures that the machines are quickly ready for use and that the processes occur in an extremely productive, low-wear and fuel-saving manner. Various modules, depending on application, are in use:
EBC (Ergonic Boom Control): Controls and regulates the movements of the concrete placing booms. The result is a higher placing capability, the operation is simple and safe.
EPS (Ergonic Pump System): Handles the control of the concrete pump to ensure optimised and low-wear pumping process.
EOC (Ergonic Output Control): Controls the optimum engine speed for fuel-saving, gentle and quiet operation of the concrete pump.
ESC (Ergonic Setup Control): The Putzmeister safety system, which controls the interaction between support, boom and pump and ensures flexible and safe full and narrow support.
HMI (Human Machine Interface) – safe operation, fast reactions
Ergonic 2.0 not only controls processes, it is the link between man and machine. And so it can be operated simply and safely. The central control allows all functions to be executed via ergonomic radio remote control. The EGD (Ergonic Graphic Display) provides all relevant machine data in real time. This allows the machine operator to keep a complete overview at all times and to respond quickly if parameters change. Specifically: Operation is more convenient and errors are reduced to the minimum. The operator is optimally supported in his tasks.
Connectivity – Impressive transparency thanks to information in real time
One of the most important levers for companies is transparency in all areas. The Putzmeister machine cockpit is one milestone along this journey. The means: The complete networking of truck-mounted concrete-pumps – Keyword: Connectivity. All relevant information for the machine can be called up in real time. In addition, the machine cockpit also forms the basis for integrating machine data into an expanded eco system as part Building Information Modelling (BIM). The information centre, then, offers maximum safety and service in addition to highly-efficient fleet management. The company keeps a complete overview of its fleet and therefore its assets at all times. To relieve the operator and prevent input errors, this takes place fully automatically.
The benefits:
Warning messages for critical states, remote diagnosis of machine faults as well as automatic maintenance planning reduces costly downtimes.
Real time information and the overview of all relevant operating figures, such as output, machine usage and fuel consumption, improve planning and ensure high productivity.
The warning messages when vacating work areas protect the investment. This is because the remote service reduces the risk of theft or allows a quicker response.