Putzmeister Is Setting New Standards for Truck-Mounted Concrete Pumps
All new machines come with a range of features, including the efficient Ergonic 2.0 control system and a new hydraulic system. With the new iLS pump generation, Putzmeister presents worldwide novelty. The new models can be identified thanks to their striking design with the new Putzmeister logo.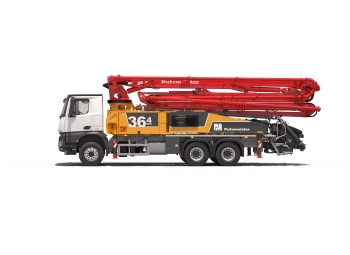 The versatile 36-4 truck-mounted concrete pump guarantees user-friendly operation for beginners and experienced operators. (Image: Putzmeister)
The new iLS pumps are setting standards for the industry – according to Putzmeister, these are the most durable pumps that have ever been produced. The secret to the success of the previous HLS generation – reducing wear using larger cylinder diameters and fewer strokes – has been refined and perfected by the Aichtal-based engineers. This results in a significant increase in power due to a number of factors, including the prevention of leaks and approximately 10 percent better suction performance, which results in improved concrete flow and innovative control. In combination with the newly designed Ergonic 2.0 control system, this saves up to 25 percent more fuel.
What else does the Ergonic 2.0 control system offer?
The control effectively supports the operator to make their machines ready for use quickly and that the processes are carried out extremely productively, while generating less wear and saving fuel. This involves the use of a range of modules, depending on the application: EBC (Ergonic Boom Control), EPS (Ergonic Pump System), EOC (Ergonic Output Control), ESC (Ergonic Setup Control). EOC 2.0, which is a novelty at bauma, enables users to work more efficiently, in particular: "Controlling the optimum engine speed and a newly developed hydraulic management makes it possible to achieve fuel savings of up to 25 percent. This guarantees that the concrete pump operates smoothly, with low wear and high fuel efficiency," Markus Frasch, Director of Product Management.
However, Ergonic 2.0 doesn't just control processes – it forms the link between the operator and the machine. Thanks to the central control system, all functions can be carried out precisely using an ergonomic radio remote control. The remote control itself is now 30 percent lighter and can be used as either a radio remote control or a cable remote control. The EGD (Ergonic Graphic Display), a high-resolution colour display, allows the operator to see all relevant machine data in real time. This means that the machine operator always has a full overview of the machine, avoids needless walks and can react quickly if parameters change. "Our Ergonic 2.0 control system provides optimum support for machine operators during their work. It reduces the sources of errors and makes work more convenient and safer overall," continues Markus Frasch.
User- and business-friendly – everyone can benefit from this generation
Daily maintenance work is reduced and the machines are easier to clean – leaving more time for the important things. Thanks to improved ergonomics and even more precise extension control, pouring concrete is also easier and quicker than ever before. Service employees will appreciate the improved accessibility, standardised parts and reduced overall number of components. Their work is also supported by the Ergonic Service Tool, which displays maintenance intervals and enables remote diagnostics. Businesses will benefit from the high safety standard, in particular, which protects both personnel and investments.
The new 36-4 – economical, efficient and user-friendly
Putzmeister customers can choose between a 36-4 with the same support as the previous tried-and-tested machine or with the new partial support at the front, to increase the flexibility of the machine once more. Equipped with ESC (Ergonic Setup Control), Putzmeister's safety system, the 36-4 also works precisely in accordance with the guidelines set out in standard DIN EN 12001:2012*. The 36-4 is additionally available with optional OSS on international markets. The 36-4 offers an optimum accessibility and convenient operation such as the new light concept that enables convenient, safe work even at dusk or in the dark – all operating positions are illuminated. The sturdy 36-4 makes a clear statement – at Putzmeister, customer requests are taken on board and implemented. A new construction concept reduces boom vibrations and enables a more efficient and safer operation of the machine. The comfortable handling is already noticeable when opening the new hopper cover: it can be positioned conveniently thanks to the four spring-locked steps. RFID and securing bolts on one side make work even safer for machine operators.
The new 63-5 – tougher, lighter, but still able to take on the heavy lifting
The new 63-5 is around 1 ton lighter, but has made no compromises in terms of its sturdiness. As a result, it is now approved for work in all US states. On top of that the 63-5 is whole boom is equipped with a DN 125 delivery line. Many more components have been integrated into the construction kit of the smaller truck-mounted concrete pumps, such as the rear with hopper and steps, to increase the usability for operators and service people and to standardise work flows.
Like all machines in the Putzmeister portfolio, this version benefits from the new hydraulic concept; its oil consumption has been reduced by 45 percent, reducing both operating costs and weight. The support is even more intuitive thus not only more comfortable, but also safer to use. The new machine is also available with the latest generation of core pumps in the 17 iLS and 19 iLS versions.
The new 51-5 – a tough, versatile, cost-effective workaholic
Users faced with demanding tasks require especially sturdy, reliable machines – like the 51-5. It replaces the well-established 49-5, bringing both increased horizontal reach and reduced oil consumption to the table. When it comes to work, it's a real heavyweight – and still incredibly easy to operate thanks to its intuitive Ergonic 2.0 control system and a remote control. This machine is in its element when working on multi-storey buildings and on large foundations. This work is made especially easy thanks to its flexible TRDI support and the compact five-arm placing boom with RZ folding, which is very compact for a machine of the 50 m class. This extremely robust machine is ideal for bore pile fillings thanks to the optional available "tremie arm" that replaces the standard fifth arm. The boom tip can handle extension tip loads of up to 700 kg, for example in order to fasten hoses measuring up to 20 metres long, regardless of their diameter.
Putzmeister is going to present the new procducts at this year s bauma, taking place from 8 to 14 April in Munich, Germany.