Pumps for Reverse Osmosis Applications
The HGM-RO high-pressure pump series from KSB Aktiengesellschaft which has been successfully employed in many desalination plants is now available in five additional standard sizes.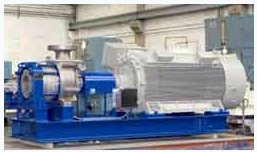 The new HGM-RO high-pressure pump for reverse osmosis seawater desalination systems is now available in five additional standard sizes (photo: KSB Aktiengesellschaft, Frankenthal).

This allows the Frankenthal pump manufacturer to supply pump sets with flow rates of up to 1150 m3/h and discharge heads of 950 m for the growing seawater desalination market. Compared with conventional axially split machines, the ring-section pump design offers markedly improved efficiencies which are beneficial to the environment and help save energy costs.
Thanks to internal, product-lubricated fibre composite plain bearings, a short bearing span can be realized. This considerably reduces vibration levels and, consequently, wear rates. Designed for hydrodynamic operation, the bearings feature a service life of 40,000 operating hours. In addition, this bearing design eliminates the need for maintenance-intensive oil and grease lubrication and bearing temperature monitoring which, in turn, makes for straightforward maintenance and repair.
The pump's suction stage impeller design in combination with the free axial inflow account for excellent suction characteristics. The pump set is very compact and requires little space for installation. Only one mechanical seal is fitted on the pump's drive end, and can be easily accessed without having to dismantle the bearing bracket. This helps reduce maintenance costs and potential repair times by more than 50 % compared with machines with external bearings and two mechanical seals.
As aggressive saltwater is handled by the pumps and forced through the membrane in reverse osmosis applications, the entire pump construction is very robust and made from high-quality duplex and super-duplex steels.