Pumps for Indonesian Power Station
By September 2014, KSB Aktiengesellschaft will supply eight boiler feed pumps for the new power station in Babelan, Indonesia. The 270 MW oil-fired power station is being built by a Finnish corporate group approximately 20 kilometres east of Jakarta.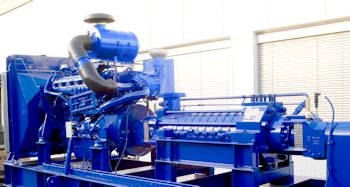 Diesel-driven boiler feed pump type HGC, similar in design to those to be installed at the new Indonesian power station being built in Babelan. (KSB Aktiengesellschaft, Frankenthal, Germany)
The order is for the supply of eight boiler feed pumps of which six will be driven by fixed speed 6,000 V electric motors with a 2,260 kW drive rating. To adjust the speed to the varying pump output required, the pump sets have been designed with a turbo coupling between pump and motor.
The flow rate of each unit will be around 270 cubic metres per hour. The designed head is approximately 1,960 metres and the temperature of the fluid handled 160 degrees Celsius. The impellers of the 11-stage pumps are made of stainless steel. The total weight of each unit consisting of a pump, coupling and motor is in the region of 25 tonnes.
The scope of supply also includes two stand-by feed pumps driven by two twelve-cylinder MTU diesel engines, each with a 668 kW drive rating. They will keep the power station in operation in the event of a power failure.
One of the reasons the Frankenthal-based pump manufacturer received the order was that they had already successfully implemented several other projects around the world jointly with the Finnish corporate group. Following its completion in 2016, the new power station will improve the power supply of the surrounding industrial region.