Pumps for Dutch Oil Platform
In July of this year, KSB Aktiengesellschaft Frankenthal (Germany) will supply twenty-three pumps for a drilling platform in the "De Ruyter" oil field. Canada's biggest oil producer is having the 12,500 t platform built in the Netherlands and is planning to moor it to the seabed at a depth of 35 metres some 60 km to the north-west of The Hague in the summer of 2006.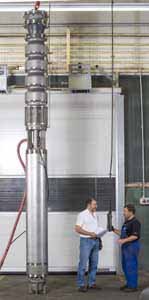 Submersible borehole pumps for the De Ruyter project during final assembly at KSB's Homburg factory (Photo: KSB Aktiengesellschaft, Frankenthal)
KSB will deliver all pumping equipment for the transport of oil and seawater worth several million euros. The scope of supply includes submersible borehole pumps made from special duplex steel which will handle the seawater. Duplex steel is an extremely corrosion-resistant type of stainless steel capable of withstanding the damaging effects of seawater. The pumps will be driven by high-voltage motors with a 6,000 Volt power rating which are filled with fresh water. A mechanical seal stops the seawater entering the motor space. To make sure any water losses are immediately replenished, the motor space is additionally connected to a constant-level fresh water storage tank. The Frankenthal-based pump manufacturer boasts numerous other oil platforms equipped with its pumps in the past all over the world.
If all goes to plan, the De Ruyter drilling platform will bring up the first oil from the deep in the second half of 2006.