Pumps Fit for Effluent
Moving liquid manure is a continuing challenge and can be a real cost driver.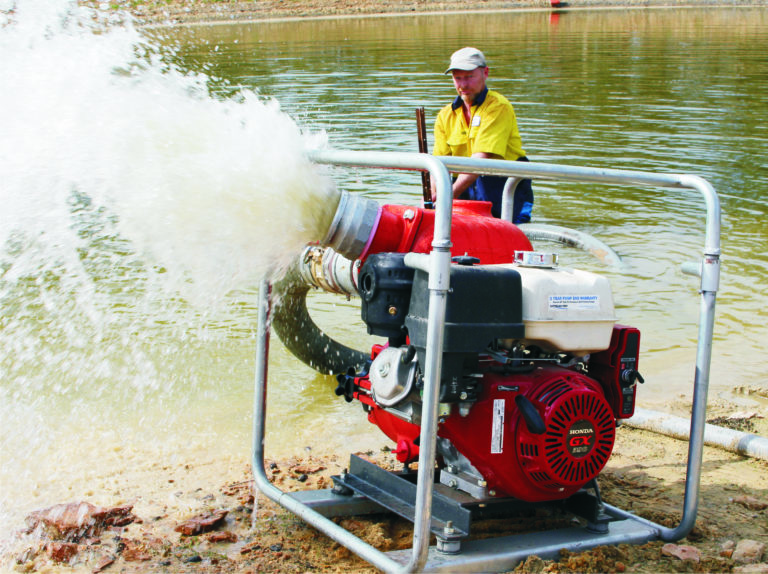 Livestock sludge solution. (Image source: Aussie Pumps)
When electric drive pumps are out of service or in the event of power failures, heavy duty portable engine drive trash pumps can fulfil a vital role in emergency sludge removal.
Australian Pump manufacturers 2", 3" and 4" portable pumps that are available in either petrol or diesel drive.  The Aussie trash pump range are designed to handle solids in suspension and is a key facet, come with a huge cleanout port built into the front of the pump's body.  The pipework or hoses connected to the pump on the suction or discharge side do not need to be disturbed!
The pumps have a capacity to handle spherical compressible solids up to 38 mm (1 ½").   Best of all, Aussie trash pumps self prime through a vertical lift of 7.6 metres, without the use of priming aids.  With flow up to 1,800 lpm, the Aussie pumps offer heads of up to 27 metres, allowing them to transport the sludge reasonably long distances over horizontal surfaces.
The heart of the pump is a huge high SG cast iron impeller and volute that are extremely wear resistant.  A silicone carbide mechanical seal is standard, designed for long sustained operation. The whole machine, engine and pump included, are encased in a heavy duty frame.
For areas where there is any possibility of a build up of potentially dangerous gases, a "Mine Spec" version is available with a super heavy duty frame, battery isolation, E-stop and an integrated fire extinguisher.
"We build these pumps right here in Sydney", said Aussie Pumps' Chief Engineer, John Hales.  "They're designed for the most rugged applications and find their way into pumping abattoir waste, piggeries, poultry farm sludge and even handling dairy effluent", he said.
A big 6" semi trash version, also with a high SG open impeller, will move up to 2,500 lpm, and again available in Honda petrol or Yanmar diesel drive.