Pumps and Valves for Germany's First Straw-fired Combined Heat and Power Plant
KSB has supplied numerous pumps and valves for Germany's first 100% straw-fired biomass power plant. The plant located in Emlichheim has been designed to supply a nearby company with process heat using straw as an energy source.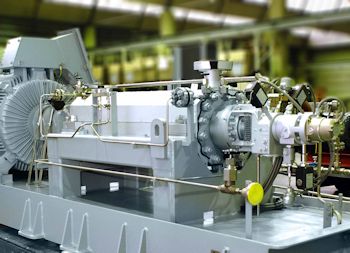 KSB high-pressure pumps like this HGC pump are used in the straw-fired combined heat and power plant in Emlichheim (KSB Aktiengesellschaft, Frankenthal).
Alongside numerous high-pressure and low-pressure valves for use at various locations in the steam circuit, the Frankenthal-based manufacturer also supplied two boiler feed pumps.
The two units are 16-stage high-pressure pumps with a flow rate of around 80 cubic metres per hour and a head of 1,706 metres. Each has a drive rating of 630 kW. The high-pressure valves include live steam gate valves with a diameter of 200 mm and are designed for an operating pressure of 250 bar. Their housings are made of heat-resistant steel and some are equipped with electric actuators.
With a thermal input of 49.8 megawatts and a gross power output of 13 megawatts, this is the first time that straw has been used on a large scale to provide electricity and heat. The annual straw requirement is approximately 75,000 tonnes. Straw is considered a CO2-neutral fuel, as the crops absorb the same quantity of CO2 from the atmosphere during growth as is released during combustion. Thanks to a unique heat utilisation concept, the power plant is able to achieve an energy utilisation rate of up to 90%.
While the electricity provided is fed into the public supply network, the heat which is created in the form of high-quality process steam is used to supply the energy-intensive production processes of the nearby starch factory. The plan is to connect public facilities and private households to the heating network via an approximately eight kilometre long pipe. The plant is scheduled to go on-line in May 2013.