PumpExpert Diagnostic System Provides Precise Information
The Frankenthal pumps and valves manufacturer KSB focused on automation technology at this year's Nuremberg trade fair. A major highlight was the "PumpExpert" diagnostic system.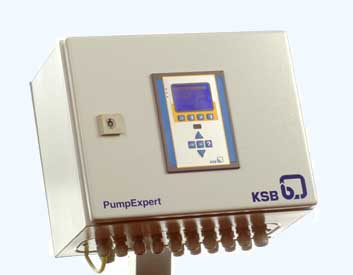 Photo: KSB Aktiengesellschaft, Frankenthal
This innovative product provides straightforward precise information on the pump, system and process condition, thus helping users to avoid expensive downtimes and consequential costs (see picture).
Also on show were smart variable speed pump drives. These include the Hyamaster system with its own control cabinet and the Hya-Drive integral motor variant. As these systems allow pressure, flow rate, system fluid level or temperature to be automatically matched to actual requirements, their use helps to markedly lower energy costs.
Pneumatic actuators of the Actair and Dynactair series allow automatic operation of quarter-turn valves. In combination with the Amtronic control unit, Actair fulfils all the requirements of modern processes to be met by valve actuators - right up to communication via field bus systems. The mechanical or inductive limit switches, the optional actual-position feedback as well as the pilot valve are integrated in the Amtronic control unit. The Smartronic control unit enables valve disc positioning and special functions.
KSB's new Movitec high-pressure pumps represent the next stage of technical development for the tried and tested Movichrom series. Launched in October this year, they can be supplied with as many as nine different hydraulic systems. As all wetted components are made from corrosion-resistant stainless steel (1.4301 or 1.4004), these pumps can be employed universally and are suitable for use in applications requiring high discharge pressures.
The UPA 100 C submersible borehole pumps also shown at the Nuremberg Braubeviale are used for water supply, lowering ground water levels, pressure boosting and fire protection. The pump units are of a very robust design and capable of handling water with a solids content of 50 grams per cubic metre.
Secochem zero-leakage canned motor pumps are designed for pumping duties in cleaning applications (CIP and SIP). They combine the well established standardized chemical pump hydraulic system with a canned motor. This configuration ensures simple handling and high operating reliability.