Pumpex Presents New High Head Dewatering Pump
Pumpex expands the product portfolio with a new powerful high head dewatering pump: P3001 SH. The P3001 pump has a robust design with a 9.4 kW motor.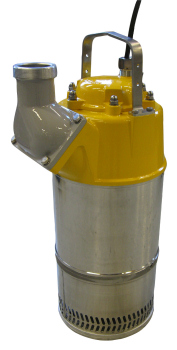 New dewatering pump P3001 SH (Photo: Pumpex)
It delivers over 80 metres of head and in combination with the low weight of 67 kg this pump provides easy handling without compromising high performance and reliability.
The main advantages of Pumpex new P3001 SH are:
- High wear resistance with hard impellers and polyurethane wear parts.
- Simple maintenance by external plugs for oil and motor inspection.
- Quick and safe service. No adjustments needed; all parts have fixed positions for reliable operation and maintained efficiency.
- Easy handling by low weight and plug-in start with built-in motor protection.
The new high pressure pump P3001SH is made for the toughest applications at construction sites, in mines, for tunnelling jobs where easy handling, safety and reliability are crucial.
The complete Pumpex dewatering pump range covers motor sizes from 0.48 kW to 56 kW. A key feature throughout the pump range is the modular design which provides the Pumpex easy service and maintenance.