Pumpenfabrik Wangen Is Taking Over the Progressing Cavity Pump Business Area from Knoll
On 1st April 2019, Knoll Maschinenbau is selling the progressing cavity pump business area (MX series) to Pumpenfabrik Wangen.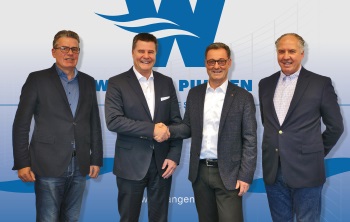 For around 15 years, Knoll Maschinenbau, based in Bad Saulgau, has developed, produced and sold pumping and filtration systems as well as pumps for machine tools and positive displacement pumps for the processing industry: The MX progressing cavity pump. KNOLL is now selling this business area to Pumpenfabrik Wangen. This means that KNOLL will again be able to increase their focus on their core business – products for chip and lubricant management in metalworking. Matthias Knoll, managing partner at KNOLL Maschinenbau GmbH, explains: "We were looking for a buyer for our progressing cavity pump area who could further expand this business and, at the same time, could offer a consistently high level of quality and service, such that our long-standing customers have become accustomed to. We have found the perfect partner in Pumpenfabrik Wangen."
Pumpenfabrik Wangen, a medium-sized company from the town of the same name in Allgäu, specialises in the manufacture of screw pumps. Managing Director Markus Hofheinz is convinced that "the screw pump from KNOLL will be an excellent addition to our range of pumps – particularly in the hygienic and industrial sector. They will bolster us in the core markets but also when it comes to expanding our international business." This purchase marks the first milestone in the long-term growth strategy that we are implementing together with the new majority shareholder Silverfleet Capital.
Its modular layout and robust design means the MX progressing cavity pump can be used in the hygiene sector as well as the chemicals, paints, lacquer and paper-making industries. One particular feature of these progressing cavity pumps is the version with EvenWall technology, which ensures a significantly higher level of pressure stability. Furthermore, the MX pumps are unique in offering high hygiene standards in the area of joints and gaskets.
In future, the MX series will be sold and distributed by Knoll s existing sales partners as well as across Pumpenfabrik Wangen s entire distribution network. Customers will also benefit from Pumpenfabrik Wangen s comprehensive and growing service network. "We are expanding our strong range of hygienic screw spindles to include the leading hygienic progressing cavity pump and, in future, we will offer customers a significantly wider range from a single source," says Markus Hofheinz. The smooth transition of the business has been planned and announced by both parties and will be completed in the first quarter of 2019 – the intention is to continue to provide products and services without interruption.
It's now official: Matthias Knoll (second from left), Managing Partner of KNOLL Maschinenbau GmbH, transfers the progressing cavity pump business area to the three Managing Partners of the Pumpenfabrik Wangen – (left to right) Jürgen Demke, Markus Hofheinz and Lorenz von Haller.(Image: Knoll Maschinenbau GmbH)