Pump Solutions Group Earns Frost & Sullivan Award
The Pump Solutions Group was recently named the recipient of the 2010 North American Positive Displacement Pumps Customer Value Enhancement of the Year Award by Frost & Sullivan.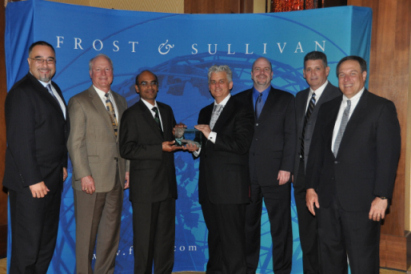 The award was presented to PSG Frost & Sullivan's 2010 Excellence in Industrial Technologies Awards banquet, which was held on April 29, 2010, at the Grand Hyatt-Riverwalk in San Antonio, TX.
"PSG's integrated business structure encompassing all of Dover's diverse brands allows the company to function as a single business entity, leveraging its common manufacturing and supply-chain infrastructure into enhanced value for its customers," said Muthuraman Ramasamy, Frost & Sullivan Research Analyst. "Its multiple pump technologies, combined with its domain expertise spanning several industry verticals enables Dover to cater to diverse operational requirements of end-users."
Picture: (From left) Walter Bonnett, PSG's VP of Marketing; Skip Giessing, VP of the Rotating Equipment Division for DXP Enterprises, Houston, TX; Soma Somasundaram, President of Dover Fluid Management; Dean Douglas, President of PSG; Gary Lent, PSG's VP of Corporate Development; Joe Lewallen, COO of Odessa Pumps, Odessa, TX, and Art Robbins, North American President of Frost & Sullivan.