Pump Manufacturer Pleuger on Expansion Course with Build-to-Order Strategy
At this year s Asia Pacific's International Mining Exhibition 2019 (AIMEX), Pleuger s energy-efficient permanent magnet motor, which was also created by Hamburg engineers for pumping applications in the mining industry, should attract attention.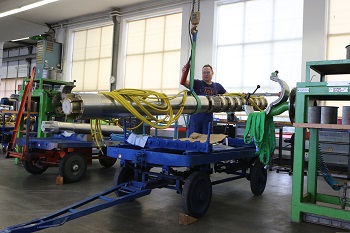 Picture: At its production site in Germany, Pleuger Industries develops and manufactures energy-efficient pumps for the mining industry. (Image source: PLEUGER Industries/Carlos Kella)
The synchronous motor with permanent magnet rotor has up to 14 percent higher efficiency compared to conventional induction motors.
Since 90% of a submersible motor pump s life-cycle costs are attributable to power consumption, the latest technology provides enormous power saving potential. The hermetically sealed rotor is also protected against corrosion and mechanical influences and contributes to maintenance-free operation.
Innovations like these are based on Pleuger engineers decades of project experience. At the production site in Hamburg, the ultra-modern R&D department creates tailor-made unique alternatives for mining companies around the world. These include iron ore mines in Western Australia, copper mines in Chile, uranium mines in Niger and opencast lignite mining in Germany.
Pleuger is able to guarantee its clients the suitable after-sales service with a dense network of sales partners and expand its built-to-order strategy worldwide. The Hamburg-based company s global expansion course was strongly promoted by the US-American company Flacks Group's acquisition. Most recently, Pleuger established sales offices in Moscow and Miami and has invested in additional local service personnel.
Pleuger's machine manufacturer s range includes standard and special units from 4 to 50 inches, depending on the customer s requirements. Pressure jacket pumps that do not require dynamic seals and are therefore considered particularly reliable are used to increase the pressure in pipelines.
Find out more about Pleuger technologies in the Germany Pavilion at AIMEX 2019 (booth J121). The cluster is coordinated by the German Ministry of Economics and the German Engineering Federation (VDMA), which supports the specialist for mine drainage and process water supply in its latest export projects.