Pump Engineering: Piston Pump Is Perfect For Thick, Viscous Ingredients
The chilled prepared food market is one of the largest and most important sectors in food retailing where consumers are offered a huge choice of convenience foods, such as; pizzas, pasta, curry sauces, soups and desserts.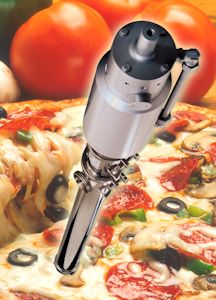 Pump Engineering
As a result of this, manufacturers are often required to provide solutions which overcome the difficult processing challenges of handling a huge variety of ingredients, whilst maintaining ever-increasing quality control standards.
For example, transferring high viscosity ingredients such as tomato puree, pulps, creams and syrups, presents unique pumping problems. CSF piston pumps from liquids handling specialists Pump Engineering are ideally suited to the challenges of transferring thick, viscous ingredients from tanks, drums and IBC's. Most importantly, CSF pumps are available as quick-strip versions, so they can be easily dismantled for cleaning, without the need for tools.
The pumps are available as a long version for drum emptying where the piston is below the liquid level to enable the pump to handle liquids with a very high viscosity. The positive head and bottom entry positioning of the pump combine to ensure improved flowrate and increased efficiency. Short versions are also available for bottom discharge vessels or wall-mounting where required.
CSF pumps are air-operated and depending on the model, will deliver pressures up to 20 bar, while flowrates reach up to 100 lit / min.
CSF pumps can also be fitted with a special bag-in drum inlet, a feature which prevents the plastic drum lining used in some containers, from being sucked into the pump.
For non-flowable creams, pastes, gels and waxes, the pumps can be fitted with a follower plate and single or two post ram which will empty any parallel sided vessel.
Materials of construction are AISI 304 or 316 polished stainless steel, with a choice of PTFE or nitrile seals.