Pump Companies Are Expecting a Strong Year In 2013
Industrial pump company revenue growth is predicted to be 3.7 percent this year according to the latest forecasts in the continuously updated McIlvaine report.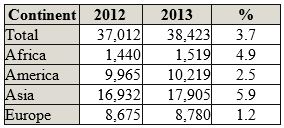 Pumps World Markets (McIlvaine)
Growth in Asia will exceed that of other continents. The lowest growth will be in Europe. However, it should be noted that this is growth in consumption and not production. The pump companies exporting from Europe are expecting higher growth.
In general, the larger pump companies are expecting growth considerably above the mean.
Two of the top six pump companies are expecting double-digit growth. Analysts expect Xylem sales to increase 11 percent this year. Last year sales were flat but were up 18 percent in 2011 and 12 percent in 2010. However, sales were down 13 percent in 2009. Flowserve sales are expected to rise over 7 percent this year following sales increases over 5 percent last year and 12 percent in 2011. Sales were down over 7 percent in 2010.