PSA 2002 Returns to Singapore With a Strong International Presence
The PSA 2002 show series returns to Singapore for the 6th time with brand new exhibitions to showcase the most comprehensive conglomerate of local and international industry players at Halls 3 and 4 of the Singapore Expo from 9 – 12 July 2002.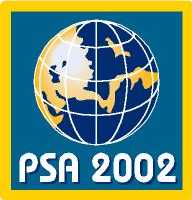 PUMPS & SYSTEMS ASIA 2002
PSA 2002 features the following industrial exhibitions under its umbrella to provide a relevant and synergistic event for trade visitors:
PUMPS & SYSTEMS ASIA 2002
VALVES & FITTINGS ASIA 2002
TUBES & PIPING ASIA 2002
COMPRESSORS & SYSTEMS ASIA 2002
WATERTEC ASIA 2002
ENVIROTEC ASIA 2002
CHEMTEC ASIA 2002
CONTROL & INSTRUMENTATION ASIA 2002
MOTION, DRIVE & AUTOMATION ASIA 2002 (MDA ASIA 2002)
FLUID POWER ASIA 2002
POWER TRANSMISSION ASIA 2002
Held as an extension of PSA 2002, is an event called MOTION, DRIVE & AUTOMATION ASIA 2002 (MDA ASIA 2002) incorporating FLUID POWER ASIA 2002 and POWER TRANSMISSION ASIA 2002, showcasing the most comprehensive fluid power – hydraulics and pneumatics systems, electrical and mechanical power transmission, and internal combustion engines, to provide a more specialised platform for businesses in the industry to share their knowledge and technology.
PSA 2002 – TAKING ADVANTAGE OF THE OPPORTUNITIES
The effects of the global economic climate as well as developments in the region have made restructuring and recovery process in Asia difficult yet even more necessary than ever before. China gaining entry into the WTO in November 2001 has allowed for freer access to the vast China market. However, challenges posed include increased competition among the ASEAN countries for a share of the USA, European Union and Japan markets in industries such as textile, machinery, electronics and manufacturing, just to name a few.
Therefore, the emphasis on technology, innovation and capabilities in the development of the manufacturing and services industries becomes increasingly important to establish competitive advantage. In addition, with growing economies such as Cambodia, Indonesia, Malaysia, Thailand and Vietnam, there is an ever-increasing need for infrastructure and construction projects to form the base for sustainable economic development and growth. The long-running PSA 2002 show series therefore presents the most timely and comprehensive gathering of the leading industry players to meet with their targeted trade visitors. PSA 2002 is a one-stop platform whereby visitors are able to source for products and services, exchange knowledge and expertise as well as learn about the latest technology and trends available in the respective industries.
A STRONG INTERNATIONAL GATHERING AT PSA 2002
There will be 11 National/Group Pavilions at PSA 2002. Establish contacts with the 29 exhibitors in 2 Germany Pavilions, organised by Verband Deutscher Maschinen – und Anglagenbau (VDMA) and the 20 exhibitors under 2 UK Pavilions, organised by Engineering Industries Association. USA exhibitors can also be found in 2 USA Pavilions. In addition, there will be a number of exhibitors participating under the umbrellas of the Pakistan, South Africa and Taiwan Pavilions. Furthermore, prestigious international trade organisations also represent 2 other Pavilions. Visit S.IN.IM Pavilion from Italy and Taiwan Fluid Power Association (TFPA), who will be hosting some of their members under their umbrellas.
The conglomerate of exhibitions held under the PSA 2002 show series has also garnered the support of an impressive list of 43 local and international trade and professional organisations as well as important government bodies. On the international level, the exhibition series received the endorsement of 34 industry-related organisations. A full list of the organisations is available in Appendix 1.
SPECIAL EVENTS
Visitors can also have a more productive and informative experience through the special events, which have been specially organised in conjunction with the exhibitions, while giving exhibitors extra mediums whereby they can promote their organisation as well as share the latest trends and ideas with industry representatives.
Exhibitors' Technical Presentations: An avenue whereby visitors can learn about the latest products and technology trend in the industry. Exhibitors will share their product knowledge while experts will offer business solutions to the audience.
One-on-One Business Meetings: For visitors to cultivate business relationships with exhibitors, on a personal and one-on-one basis.
Plant Visits: Organised for representatives to visit plants such as the Bedok Water Works, Seletar Water Reclamation Plant and Tuas South Incineration Plant. This is an ideal opportunity for visitors to experience and learn about the new technology and processes in the water and waste management industry.
Product Gallery: Showcases exhibitors' products and technology at one venue and offers visitors a preview of what to expect from the respective exhibitors' booths.
Seminar: A half-day seminar on "Competitive Intelligence" will be held to provide exhibitors and visitors with an insight into how competitive intelligence can help companies stay ahead of competition in today's challenging economic and business climates.
VIP Buyers Program: Organised to invite regional key buyers to Singapore to attend the exhibitions. These buyers are selected based on their high buying potential to help generate more sales for the exhibitors.
With strong support from the various industries, the PSA show series has been growing from strength to strength since its inception in 1992, leading to the bestowal of the prestigious Approved International Fair (AIF) status on the series for the by the International Enterprise Singapore, formerly known as Singapore Trade Development Board. With such a track record, PSA 2002 is tipped to play host to 1,000 participants and is expected to attract over 15,000 quality visitors from 70 countries/areas.
For more information on PSA 2002, please contact HQ Link Pte Ltd at:
205 Henderson Road
#03-01 Henderson Industrial Park
Singapore 159549
Tel: (65) 6534 3588 Fax: (65) 6534 2330
Email: hqlink@singnet.com.sg
Or Visit
www.psa2002.com
PUMPS & SYSTEMS ASIA 2002
Halls 3 & 4
Singapore Expo
1 Expo Drive
Singapore 486150
9 – 12 July 2002
Please visit IMPELLER NET at the booth of VSX - VOGEL SOFTWARE in hall 3, stand 3318!