ProMinent Expands Performance Range of Peristaltic Metering Pumps
ProMinent completed its product family of peristaltic metering pumps. The performance range has been extended to a maximum performance of up to 65 l/h at up to 5 bar backpressure. A special variant has been developed for dosing small dosing quantities.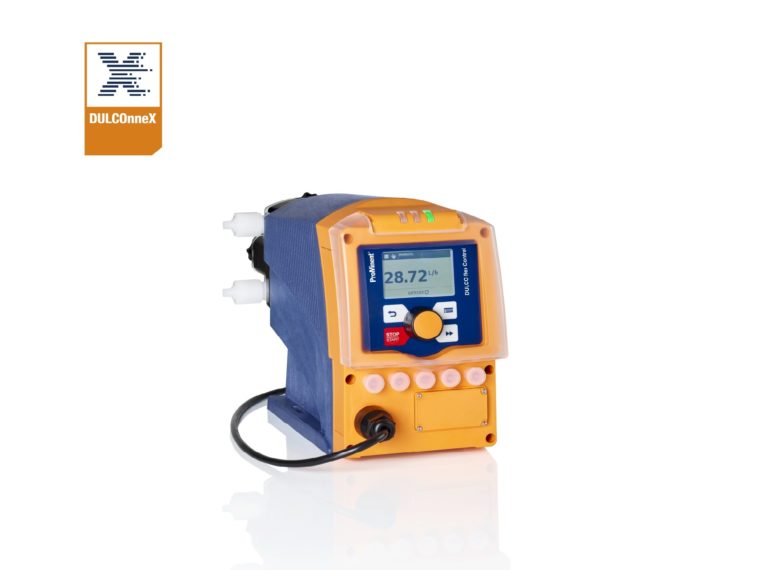 New DULCO flex Control – DFXa peristaltic metering pump doses from 6 ml / h up to 65 l / h with a counter pressure. (Image source: ProMinent GmbH)
The peristaltic metering pump of the DULCO flex control - DFXa series is available in the following three versions: For metering 6 ml/h to 18 l/h (5bar), 10 ml/h to 30 l/h (7bar) and 22 ml/h to 65 l/h (5bar). The new 18 l/h variant is suitable when a few ml/h should be dosed with high precision.
At maximum feed rate, the rotor speed is 100 rpm for all types. Due to this moderate speed, the tube is not compressed that often which leads to long service intervals. In general, a peristaltic pump should be selected by the principle of "as large as possible". The wide control range of 1:3,000 allows very slow speeds, and because of this, the service life can be extended even further. Suitable tube materials, and a pump design optimized for the application, ensure long service intervals; the number of interruptions in production or the process, due to tube changes, is therefore significantly lower.
A quick and uncomplicated tube change, completely without tools, is guaranteed thanks to a combination of patented liquid end and tube changing process, programmed in the user interface. The display provides the fitter with precise instructions about the steps to be completed when replacing the hose, preventing operating errors and saving costs.
The peristaltic metering pump is particularly suitable for metering outgassing, abrasive, shear-sensitive and highly viscous liquids. The results of extensive test series prove that the DFXa easily dispenses media with viscosities of up to 200,000 mPas! At such high viscosities, peristaltic pumps clearly outperform diaphragm pumps.
The intuitive user interface, already appreciated in ProMinent diaphragm metering pumps, ensures simple operation and is identical across all ProMinent series. Every user quickly finds his way around and can make essential settings in no time at all.
Within a few minutes, like the other ProMinent metering pumps, the DFXa can be connected to the web-based fluid management platform, DULCOnneX. With this cloud-based solution, dispensing processes can be monitored in real time, downtimes can be avoided, and fully automatic reports can be generated. Digitally networked, all necessary information for optimal system control is available and always ensures smooth processes.