Product News MCE 2006 – Part 1
The leading international exhibition for domestic and industrial systems in four main areas - Energy, Heating, Cooling and Water - took place from 28 February to 4 March at the new Fiera Milano exhibition centre in Italy. Impeller.net brings you the latest trends and starts its report with circulation pumps and water supply.
Circulation Pumps
At the Mostra Convegno Expocomfort the trend of energy saving circulation pumps continues. Several manufacturers present their latest developments in this area. In this context, the Energy Label introduced by the Association of European Pump Manufacturers EUROPUMP is a current topic in this market.
The new generation of electronic circulators Dialogue BPH-E and DPH-E by DAB has an integrated electronic control that offers different ways of regulation. Fluid temperatures ranging from -10°C to 120°C the pumps are suitable for both, heating and cooling applications. The simple installation and low-maintenance operation are further advantages of these pumps.
Grundfos makes its Energy Label pumps a principal topic in the Italian market. Already introduced at the ISH 2005, the energy-saving Alpha Pro with frequency converter and permanent magnetic motor is the centre of attention. According to the manufacturer this technology reduces energy consumption down to 6 watt.
The new energy-saving circulation pumps by Lowara complement the manufacturer's product range of building solutions. The systems are available in various sizes and designs to cover the entire application area of circulation pumps.
Additionally, Lowara presents its new pump selection program Loop4u jointly developed with VSX – VOGEL SOFTWARE.
The SR4 PLUS by Pentair (Nocchi) is a energy class B heat circulator that stands out because of high comfort and low noise levels. You can choose between 4 speeds and an automatic setting of a given operating point.
Salmson presents the latest generation of its high efficiency pumps named SIRIUX. The electronically commuted motor pumps are electronically regulated and accept fluids from -10°C to +110°C. They are suitable for applications in heating as well as cooling, air conditioning or refrigeration. The low noise level from 40 to 50 dB, easy installation and very dependable operation are further preferences of this series.
Water Supply
In the water supply segment, innovations in high-pressure centrifugal pumps, borehole technology and pressure boosting were introduced. Products introduced here are mainly further developments of known designs. As far as materials the trend goes towards stainless steel. Innovations improve the installation and maintenance, deliver new mounting options, extend the application limits or improve the efficiency.
The multi-stage centrifugal pumps REXOUT by Arven are suitable for different tasks in water supply and pressurisation. The motor has a dielectric oil bath for cooling and lubrication. The maximum temperature of the pumped liquid is 50°C and the max. immersion depth is 5 m. The pumps are available with a single or three phase motor.
The new Cabinet Booster by Ebara is a compact booster set in cabinet form which is available as wall built-in version or with floor anchorage. The system is equipped with two in-line pumps, a frequency converter, a pressure vessel as well as corresponding fittings and pipes. The pumps and pipes are made of stainless steel. Applications include domestic water supply, pressurisation, horticulture dewatering and small industrial water supply systems.
In addition, Ebara introduces the new vertical, multi-stage centrifugal pumps of the EVM series, the horizontal block pump DWC for refrigeration and the extended 3 SERIES.
The new universal submersible motors po-mo by oddesse are available in voltages up to 1000 V. The NEMA flange standard guarantees a safe pump connection. Windings allow temperatures up to 80°C. Low operating costs because of high efficiency, dependable design with effective cooling, optimized windings and proven bearings and a modular design for all materials ensure low life cycle costs.
The new generation of high efficiency motors of the EFF 1 class are the centre of Pedrollo's presentation. They are, for example, used for the self-priming, multi-stage centrifugal pumps of the Plurjet series.
The pump of the CP series were also equipped with this new motor. Applications include water supply, especially for the automated water supply of small and medium-sized surge tanks or in horticultural irrigation. They stand out because of easy handling, reliability and basically maintenance-free operation.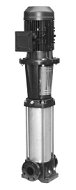 The improved construction of the multi-stage stainless steel centrifugal pump VLR32 by Pentair (Nocchi) promises enhanced performance and reduced noise. The cartridge seal that can be changed without motor disassembly clearly eases maintenance. The pump is used in various applications such as water supply, sprinkler installations, fire fighting or irrigation. The horizontal centrifugal pump NRB designed according to DIN24255/EN733 features maximum interchangeability of components and particularly suited for industrial uses. For optimised pump selection, Pentair presents its new software developed by the market leader VSX.
Pentax present their new multi-stage stainless steel centrifugal pump ULTRA. The manufacturer promises an excellent efficiency, silent operation and durable design. The horizontal version has a head of about 80 m while the vertical design offers a head up to 125 m. The max. capacity for both versions is indicated at 26 m³/h. These pumps are to be used for pumping clean non-loaded fluids in the domestic, agricultural and industrial sectors.
The new 4" submersible motors O2 and O3 from Q&P Q&P can be supplied from 0,25 to 2,2 kW. The single-phase motors are cooled by a dielectric liquid.
The Italian family business Rovatti focuses on pumps and systems for professional applications. At the MCE the company presented its newly designed 8EX borehole pumps. Made of stainless steel AISI 316 these semiaxial pumps have a clearly reduced wall thickness thanks to the re-design. Because of the modularity it is even possible to exchange components with the cast iron version.