Process Safebook 1: Functional Safety in the Process Industry
A new publication from Rockwell Automation looks at the principles and standards relating to safety in process applications and discusses how to implement effective solutions.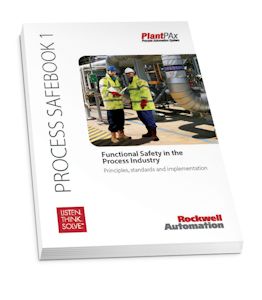 Process Safebook 1 (Image: Rockwell Automation)
Process Safebook 1 – Functional Safety in the Process Industry has been published by Rockwell Automation to provide its customers with an overview to functional safety and guidance in the application of IEC61511, the process industry specific implementation of IEC61508.
IEC61508 has already been hugely influential and will continue to be the basis of modern safety standards and legal frameworks, so it is essential that personnel with responsibilities at any stage of the life of a safety-related system should make the effort to understand it. It covers the safety management of electrical, electronic and programmable electronic systems throughout their lives, from concept to decommissioning and brings safety principles to the management of systems, and safety engineering to their development.
At its core is the principle that, in safety planning, safety goals based on risk assessment should be set, and then that the rigour of management and processes should be appropriate to meeting them. This makes the standard goal-based rather than prescriptive, and means that compliance with the standard does not exonerate users of any blame in the event of a safety problem.
According to Keith J Kirkcaldy, author of Process Safebook 1 : "The book was originally aimed at sales engineers and designers within Rockwell Automation, to help them understand some of the basic concepts that customers typically ask for; the objective being the provision of cost-effective solutions to their requirements."
The publication evolved from a local, internal publication to one that spread throughout the global organisation. It has now become available as a published book to customers and System Integrators. "It has been written in such a way that it clarifies the terminology and jargon and uses simple language illustrated with examples taken from our own experience," Kirkcaldy explains. "It shows that compliance with the standards is not just about calculation and analysis and meeting quantitative targets, but also stresses and shows the importance of competent management and implementation. It shows compliance is not a paperwork exercise with the objective of producing documents but, instead, it is about making sure that adequate information is available."
The book gives an overview of many facets of process safety including, but not limited to:
Safety Lifecycle
Hazards and Hazard Identification
Risk and Risk Reduction
Determining SIL Targets
Allocation of Safety Functions
Reliability Techniques
SIL Verification
Functional Safety, Assessment and Auditing
Process Safebook 1 is just part of the total safety offering from Rockwell Automation, which also includes a comprehensive portfolio of process safety solutions and services. The company also offers similar guidance, products, solutions and services for machine safety. Safebook 4 - Principles of Machine Safety: Legislation, Theory and Practice is another book available to order or download. It covers the principles, legislation, standards and application of machine safety.
Recognising the impact that safety has across many industries, as well as the challenges and opportunities its customers face, Rockwell Automation has put significant budget and resources behind a strategy aimed at assisting companies to address safety legislation. From white papers and videos through technical publications to machine-level software and library files, Rockwell Automation is your one-stop choice for all things relating to safety – especially if you want it to work for you rather than against you.