Process Pump for Refineries
KSB presents the new model of the RPH type series used in refineries as well as petrochemical and chemical plants. The new design makes the pumps fully compliant with API 610, 9th edition.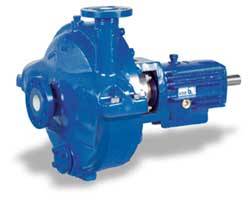 The new RPH process pump is fully compliant with API 610, 9th edition. (Source: KSB)
They are manufactured in identical designs throughout the world. Factories in the Americas, Asia and Europe assemble the pump sets and modify them to meet local requirements.
RPH was designed to API 610, 9th edition, the aim being to reduce maintenance costs and increase the service life. The improvements are attributable to the large shaft diameters and the use of double volutes from DN 80, the latter making for minimal shaft deflection under load, which - among other benefits - extends the mechanical seal life.
The bearing bracket with integrated cooling fins can be fitted with a fan impeller to allow for operation without external cooling at high temperatures.
The type series is designed for flow rates of up to 1 500 m³/h and a maximum head of 285 m. The permissible operating temperature ranges from -110 °C to +450 °C.