President of Moyno Appointed to Hydraulic Institute Board
Alan Boyce, President of Moyno, Inc., was recently appointed to the Hydraulic Institute Board. The Hydraulic Institute serves member companies and pump users by providing product standards and a forum for the exchange of industry information.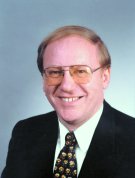 Moyno has been an active member of this organization for decades.
"The Hydraulic Institute is a highly beneficial resource for U.S. pump manufacturers and I am honored to be appointed to the board," said Alan Boyce, Moyno President.
The Hydraulic Institute is a non-profit industry trade association established in 1917. The organization and its members are dedicated to excellence in the engineering, manufacture and application of pumping equipment. The Institute has a leading role in the development of pump standards in North America and worldwide.
Moyno, Inc. is a leading manufacturer and marketer of Moyno progressing cavity pumps, multiphase fluid transfer systems, grinders and controls. It has an extensive worldwide stocking distribution network that serves a wide range of industries including water and wastewater treatment, pulp and paper, chemical, food, pharmaceutical, mining, petrochemical and oil and gas recovery. Moyno, Inc. is a unit of Robbins & Myers, Inc.