Precision Ultrasonic Level Transmitter Communicates via Profibus
Siemens Automation and Drives (A&D) has supplemented its range of Profibus-enabled transmitters with the Sitrans Probe LU. A&D offers a comprehensive range of field devices and is the leader in the area of ultrasonic level transmitters.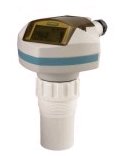 Sitrans Probe LU from Siemens A&D (photo: Siemens).
The Sitrans Probe LU ultrasonic transmitter now also communicates via Profibus PA (Profile 3 Class B) in addition to data transmission via Hart protocol. The device measures the level of liquids and slurries in storage tanks, process vessels and open channels up to 12 meters. With a peak measuring accuracy of 0.15 percent that is world-beating in its device class, the transmitter is also suitable for high-precision tasks in the chemicals, water/wastewater and food and beverage industries.
This high measuring accuracy of 0.15 percent is based on the patented echo processing software Sonic Intelligence and a low-noise sensor that is equipped with a special noise shield and has a large signal-to-noise ratio. For secure analysis of the echo signals, echo attenuation and increased background noise are compensated for and interference echoes are automatically suppressed. The sensor is resistant to changing chemical influences and temperatures and is available in ETFE (ethylene tetrafluoroethylene) and PVDF (polyvinylidene fluoride). The Sitrans Probe LU is configured using a handheld programming device or the Simatic PDM software.