Precision Fluid Control for Process and Analytical Instrumentation
Fluid Metering, Inc. of Syosset, NY introduces the Model STRH for precision fluid control in analytical and process instrumentation.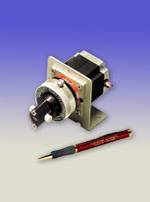 Model STRH (source Fluid Metering, Inc.)
The STRH integrates FMI's patented CeramPump® valveless piston pumping principal with precision stepper control. The piston stroke displacement is adjusted using an easy-grip flow control ring graduated in 450 divisions resulting in an accuracy of 1% or better. It is ideal in applications which require both frequent and highly accurate changes in dispense volumes or flow rates.
The low dead volume pump head design ensures maximum bubble clearing and provides a typical stroke to stroke precision of 0.5% or better.
The Model STRH will dispense 0-100ul per stroke up to 50 ml/min. Continuous metering at pressures up to 100 psig. FMI also offers stepper motor controllers from simple quick start control to intelligent programmable control capabilities.