Powerful Alternative to Centrifugal Pumps
Good news for all liquid pumping applications: Rietschle Thomas is introducing the competitively priced rotary vane pump FLW 05 as a viable alternative to centrifugal pumps. A unique feature is the nearly linear flow curve which does not fall off at higher pressures as is characteristic for centrifugal pumps.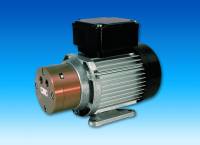 Rotary vane pump FLW 05
Thus the FLW 05 reaches a more stable flow even at higher pressures which, for instance, can improve the heat removal rate in cooling circuits. Compared to centrifugal pumps the unit is self priming up to 8 m H2O and has an efficiency almost twice as good.
This new pump series broadens Rietschle Thomas' proven FLG-family with yet another efficient product. It reaches pressures up to 5 bar and free flows approaching 5 l/min. The compact and light-weight (3.7 kg) design is smooth running, pulsation and vibration free. It is also oil and maintenance free.
The FLW 05 rotary vane pump impresses with its high lifetime of over 5,000 hours, low wear and tear and minimum penchant for repairs. Even occasional dry running does not harm the pump.
Typical applications for the FLW 05 are in welding systems, cooling circuits, water purification and waste water treatment as well as filtration and in the medical field.