Power Plant Operators
On 4 May, about 30 pump specialists of German power plant operators and plant engineering contractors met with experts from KSB for a symposium in Frankenthal to discuss the latest pump engineering developments.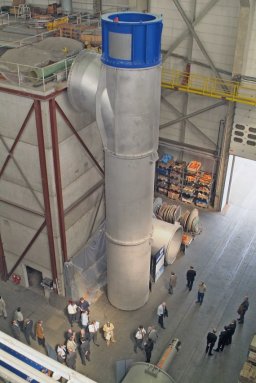 30 pump specialists of major German power plant operators discussed pump engineering issues in Frankenthal (photo: KSB).
Top on the agenda were boiler feed and circulating pumps, as well as cooling water pumps for fossil-fuelled power stations. Key topics were design features of the various pump series, such as shaft seals, bearings, balancing systems and materials. The cold and warm start capabilities of various pump types were also discussed.
As flue gas desulphurization today is an indispensable process in any conventional fossil power plant, KSB presented its latest scrubber pump generation with newly developed ceramic lining. The cooling water pump presentation gave attendees a chance to see the largest pumps ever built by KSB. Weighing about 130 metric tons each, these pump units are intended for cooling water supply in the Yuhuan power station in China. One of the pumps is currently in the final assembly stage.