Polpharma Doubles Productivity With Watson-Marlow 620 Pumps
Polpharma, the largest manufacturer of pharmaceuticals in Poland has enhanced productivity at its manufacturing plant in Starogard Gdański thanks to peristaltic pump technology from Watson-Marlow Fluid Technology Group (WMFTG).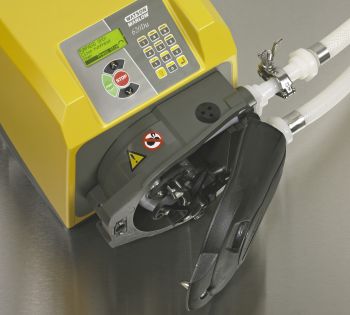 Polpharma doubles productivity with Watson-Marlow 620 pumps (Image: Watson-Marlow Fluid Technology Group)
Another 620 series process pump has recently been acquired to transfer liquids between tanks, following five years of success using an existing 600 series technology. The move has effectively doubled the productivity of the production line.
Proven performance
"The decision to purchase another Watson-Marlow pump was dictated by a rational plan to increase the productivity of the plant," explains Polpharma engineer, Damian Szymanowicz. "Put simply, we were so pleased with the performance of our existing 620U process pump that when we were looking to install another, there was no question of looking beyond another pump from Watson-Marlow."
Watson-Marlow 620 series process pumps are ideal for working in sterile conditions. The pumps have powerful brushless motors, while their pumphead configuration allows for gentle and virtually pulsation-free operation. Furthermore, Watson-Marlow 620 pumps are extremely robust and offer a multitude of proven benefits for pharmaceutical and biotechnology plants the world over.
Polpharma's use of the 620 series process pumps is coupled with Pumpsil platinum-cured silicone tubing – thus avoiding contamination between batches. Engineered specifically for post-irradiation dispensing stability and manufactured in ISO 14644-1 Class 7 cleanroom conditions under tight tolerances, Pumpsil is also post-cured for lowest extractables and features laser etched lot data.
Seamless integration
"The pumps work seamlessly with the rest of the instrumentation located at the plant," confirms Mr Szymanowicz. "The reliability and efficiency of the 620 series process pump has proved itself over five years of operation. We have seen for ourselves that the high quality of the pump reduces the cost of upgrades and guarantees a long working life. The pumps have certainly improved our performance and allowed for further development of the company s manufacturing ability."
This is a vital advantage for a company that considers itself among the top 20 generic drug manufacturers in the world, with sales of US$1 billion a year. Polpharma, which has history that can be traced back 80 years, employs more than 7000 people and has seven manufacturing plants in Poland, Russia and Kazakhstan, along with six R&D centres. The company's portfolio includes around 600 prescription drugs and pharmaceuticals for in-patient care, with a further 200 currently in development. Principal sales markets include central and eastern Europe, along with the Caucasus region and central Asia.
Understanding customer needs
"Pharmaceutical and biotechnology industries require sterility and precision in order to ensure the highest quality of the final product," says Rafal Łydziński, a representative of Watson-Marlow Poland. "The separation of liquids and precise flow control are crucial. Many years of co-operation with drugs manufacturers has been for us an expression of mutual trust and effective understanding of customer needs."