Pfeiffer Vacuum Presents New Vacuum Solutions
Pfeiffer Vacuum will be exhibiting at the Semicon Korea Trade Fair in Seoul from February 12 to 14, 2014.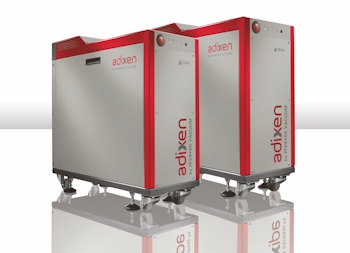 New dry pumps from Pfeiffer Vacuum in their A4 series (Image: Pfeiffer Vacuum)
New A4 series of dry pumps
The dry, multi-stage Roots pumps in the A4 series provide pumping speeds of 100 to 1,700 m3/h. These energy-efficient and reliable pumps are ideal for use in demanding processes in the semiconductor and coating industries. With corrosion resistant materials and a high gas throughput, this pump series is optimally suited for use in CVD processes, for example.
New dry pump A 200 L
In spite of its small dimensions, the new dry, multi-stage A 200 L Roots pump provides a high pumping speed and very short pump down times. This dry pump is suitable for operation in cleanrooms, and is ideal for clean applications such as load-lock and transfer chambers, as well as for all other non-corrosive applications. The A 200 L is further distinguished by its ease of integration into semiconductor production lines and, in particular, by its energy-efficient operation.
New ATH 2804 M and ATH 3204 M magnetically levitated turbopumps
In the magnetically levitated turbopumps in the ATH-M series, a 5-axis active magnetic bearing monitors the position of the rotor. This high-quality bearing technology combines long-term stability and reliability with extremely quiet operation. Given the process equipment of these high vacuum pumps and their exceptional pumping speed, they are ideal for use in semiconductor production, particularly in etching processes, as well as in many other industrial applications.
Pfeiffer Vacuum is also exhibiting at Semicon China
in Shanghai from March 18 to 20, 2014.