Pfeiffer Vacuum Goes BRIC
Pfeiffer Vacuum is in the process of opening its own subsidiary in São Paulo, Brazil.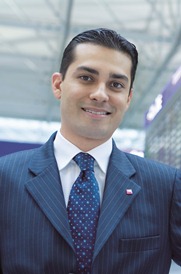 Diego Peña Rey, Managing Director of newly established Pfeiffer Vacuum Brazil (Image: Pfeiffer Vacuum)
With these new headquarters for the region Brazil and Latin America, Pfeiffer Vacuum is completing its BRIC-strategy of being adequately present with own subsidiaries in the fastest growing world regions Brazil, Russia, India and China. The new entity comprises a specialized sales team, a comprehensive service unit as well as some storage capacity for frequently required products and spare parts. Pfeiffer Vacuum is particularly strong in the region Latin America in the market segments R & D and Industry, while the market segments Coating and Analytics are expected to prospectively grow.
"Although we have had previously a very good reputation particularly in Brazil through the enormous efforts our former sales agent had made, we took his retirement as an opportunity to restructure our presence here", explains Dr. Matthias Wiemer, COO of Pfeiffer Vacuum Technology AG. "Last year we have opened our subsidiary in Moscow/Russia, while our subsidiaries in China and India already have been operating successfully for years. Especially last year, we experienced significantly increasing demand for our vacuum solutions from the BRIC region as well as from Asia in general and we expect this trend to continue."
Diego Peña Rey, Managing Director of newly established Pfeiffer Vacuum Brazil comments: "We are setting the path for future developments in Brazil and Latin America. We are on our way to finalize our import license registration in order to enable us via direct selling offering our customers both a greater variety of purchase options as well as payment conditions in local currency."
The inauguration of the new premise in São Paolo will take place on April 8, 2011.