Pfeiffer Vacuum Employees from all over the World Victorious at Corporate Games
The "Corporate Games" international sporting competition took place in Annecy, France, over the first weekend in July. Teams from corporations all over the world can take part in the games.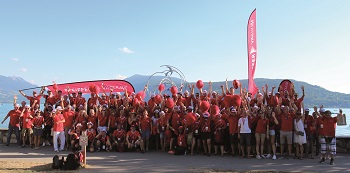 Pfeiffer Vacuum employees reached the second place in the overall ranking at the Corporate Games in Annecy. (Image: Pfeiffer Vacuum)
This year's Pfeiffer Vacuum team comprised 183 colleagues from seven different countries: China, Germany, France, Korea, Malaysia, Singapore and Taiwan. The team performed in 19 disciplines, won a total of 12 medals and came in second with 1060 points overall. Again this year, the speed climbing and swimming relay teams won the competition.
"The team spirit in our team is extremely valuable, not just on a sporting level but also when it comes to meeting corporate challenges. The Corporate Games as an annual sporting event are the ideal basis for further strengthening teams and moving them forward," explained Dr. Eric Taberlet, CEO of Pfeiffer Vacuum Technology AG and this year's patron of the Corporate Games.
The Corporate Games have existed for more than 25 years. They are held at various locations around the world. This year, more than 5,000 employees from 150 companies participated in Annecy, France.