Pfeiffer Vacuum Apprentices Win Hessenmetall
The four Pfeiffer Vacuum business apprentices, Alena Bölzer, Meike König, Oxana Pozdeev and Lisa Weichl, are winners of the Hessenmetall "My Future" contest for young blood. In the "Unique products and services" category they were up against three other finalists.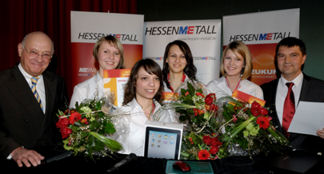 (from the left) Prof. Dieter Weidemann, Meike König, Lisa Weichl, Oxana Pozdeev, Alena Bölzer, Bertram Weil (Apprentice Training Leader at Pfeiffer Vacuum)

Their contribution consists of virtually speech-free "utility films", which explain the various steps involved when dealing with individual turbo pumps and other Pfeiffer Vacuum products. The films are to serve as virtual training material as part of the company's increasing internationality, whilst avoiding language barriers. In this way, any misunderstandings in respect of language are avoided.
"We are proud of our young employees", Dr Matthias Wierner, Executive Board Member responsible for Marketing, Production and Development at Pfeiffer Vacuum Technology AG, said. "They have not only had a great idea and implemented it well but have also presented their results professionally. Pfeiffer Vacuum will this year become even more international with a clear orientation towards Asia. We are very pleased that this situation is being addressed constructively and innovatively by all our staff."