Pfeiffer Introduces New Roots Vacuum Pumps
The pump can be used in the areas load-lock applications, vacuum metal processing, PVD coating and pumping stations.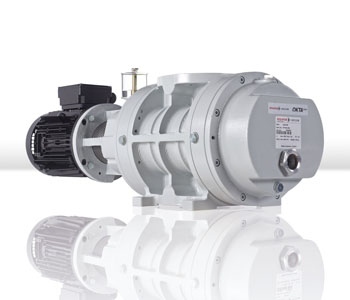 Pfeiffer Vacuum Okta 600 Roots vacuum pump (Image: Pfeiffer Vacuum GmbH)
The new Okta 300, 600 and 800 Roots vacuum pumps complement the existing Pfeiffer Vacuum OktaLine series. With identical dimensions, they offer nominal pumping speeds of 300, 600 and 800 m³/h, depending on the motor variant. By using frequency converters, the pumping speed is increased while maintaining an identical footprint. OktaLine series vacuum pumps are ideal for applications in chemistry and process engineering, in industrial applications, in the semiconductor industry, and in research and development. Typical applications are load-lock applications, PVD coating, vacuum metal processing, and pumping stations. Being designed to run without overflow valves, these pumps are more reliable and less prone to unplanned downtimes in demanding applications, such as where dust is present, in processes prone to polymerization and material deposition as well as in short-time evacuation. The pumps can be activated either
The components that come into direct contact with the process are made of nodular graphite cast iron. This material offers better operational reliability and improved corrosion resistance compared to conventional gray cast iron.
A comprehensive range of accessories is available for enhancing process reliability and monitoring purposes. Thermocouples are used to monitor the gas temperature, while the filling level and temperature of the operating fluid are monitored with a sensor system, and spraying fixtures are used to remove or prevent deposits from forming.