PFA Lined Gear Pumps Meet the Challenge at Lower Cost
Safely transferring aggressive liquids, such as inorganic acids, bases and salts, requires a pump with features including non-metallic wetted parts and characteristics such as zero leakage. To meet these challenges, Liquiflo have developed their range of magnetically driven PFA lined gear pumps which avoid the expense associated with pumps made from expensive alloys or exotic metals.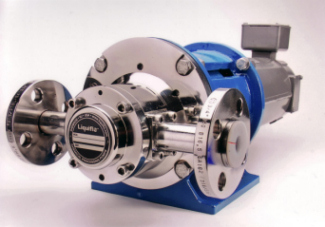 Liquiflo PFA
Available through Michael Smith Engineers, Liquiflo PFA lined stainless steel pumps are ideally suited to handling chemicals that are difficult to handle such as hydrochloric acid, ferric chloride, sulphuric acid, hydrofluoric acid, sodium hypochlorite, nitric acid and chromic acid. They are also a good choice for high purity applications where media contact with metallic components must be avoided.
Among the advantages of PFA lined stainless steel housings for these type of pumps are that they do not suffer from wicking problems associated with fibre reinforced housings, the effects of heat entrapment and corresponding thermal expansion issues are minimised as are the effects of fluid absorption. The PFA lining also increases the strength and durability required for process pump applications.
In addition to their corrosive resistance Liquiflo PFA lined pumps provide smooth, pulseless flows so they are easy to monitor and control, also their accurate output (within +/- 2%), means wastage is eliminated.
Liquiflo PFA lined pumps are designed for easy servicing so downtime for routine maintenance is minimal and are ideal for challenging applications in water treatment, general chemical processing and in semi-conductor industries. They are available in
seven sizes in both DIN and ANSI flanged connections and provide flows up to 47 lit/min at differential pressures up to 6.9 bar.