Performance Through People
Sulzer Pumps' technological leadership within its focus segments is recognized by the industry. However, this reputation did not simply spring from the global reach of the company's manufacturing plants and service facilities. The key difference is in the employees making Sulzer Pumps what it is.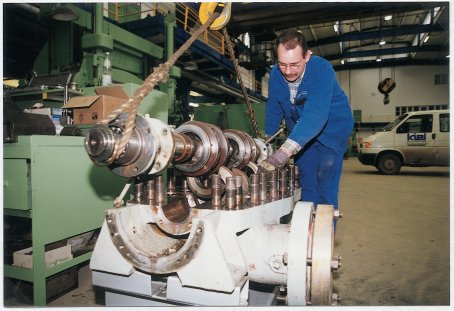 This is particularly evident in the after market sector, the Customer Support Services.
Excellent performance in new pump sales in the past years has been impressively matched in the after market business.
With services ranging from simple spare parts replacement to the re-engineering of Non-Sulzer pumps and complete asset optimization, Sulzer Pumps aims to be a 'one stop shop' for all its customers' needs. Services provided include:
Pump Assessment
Inspection - Pump inspection, duty check, system/process analysis
Monitoring - One off collection of data, site monitoring, remote monitoring
Consulting - Training, planning, front end engineering, project management
Pump maintenance and support services
Site services – Installation, commissioning, field service, turnkey solutions, site engineers
Spare parts – New parts, reverse engineering, exchange units, inventory management
Repairs – Repairs, mechanical services, renewal, contract maintenance, troubleshooting
Technical and economic optimization
Retrofits – Mechanical/material upgrade, hydraulic improvement, 3rd party retrofits and upgrades, hydraulic re-rating, major retrofits and re-designs
Reliability – Energy consumption improvements, preventive and predictive maintenance, PBMA
Asset Management – Life cycle management, pump/rotating equipment management, asset optimization
With over 50 service centers positioned at strategic locations around the world, these services are made available to all customers at a local level. Backing up this service center capability is the strength of the entire Sulzer Pump Division. This support includes services and capacity for re-engineering, hydraulic assessment, mechanical design and project management from both central engineering and manufacturing locations.
It is the combination of experienced service personnel close to the customer backed up by both regional and central experts in various engineering and commercial disciplines that makes Sulzer Pumps Customer Support Services the obvious choice for all your service needs.
Visit Sulzer Pumps at the ACHEMA 2006 in Frankfurt, Hall 8, U13 - V16.