PENTABLOC Works According to German "Ordinance on Hazardous Substances"
§19 of the German "Ordinance on Hazardous Substances" among others states: "Standard working practices must be arranged in a way that dangerous gases, vapours or suspended solids are not set free ...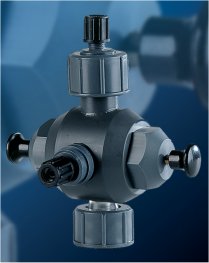 that employees don't get in contact with dangerous solids or liquids or mixtures, as far as that is possible by applying state-of-the-art technology."
This is achieved with the application of dosing pumps in cooperation with safety valves, i.e. the multifunction valve PENTABLOC, manufactured by Lutz-Jesco.
One of the valve's functions is the priming of the discharge line. Manual venting allows the chemical to return to the supply tank. Thus contact of the personnel with the medium during maintenance is avoided. Four more functions incorporated in the PENTABLOC ensure optimal operation of small dosing pumps with capacities of up to 45 l/h (45 lph):
An integrated back pressure function optimises the metering accuracy. At the same time, the valve prevents excessive dosing in pressureless systems.
The antisiphon function eliminates undesired siphoning and uncontrolled dosing beyond permitted values.
As a protection of the dosing pump against excessive pressure a safety valve is installed.
Furthermore an optical dosing monitoring is integrated: a jumping ball in a transparent pipe shows the movement of the medium.